A contractor has promised to stop breaking down rubble at a new housing development following an intervention by the Tele.
Central Demolition had been bringing rubble on to the site of Stewart House, on Kingsway East, and breaking it down – to the annoyance of locals.
The site had once been home to the Stewarts Cream of the Barley bottling plant but the ageing building was pulled down to make way for 90 new homes.
The project is the brainchild of James Keiller Estates (JKE) and Persimmon Homes North Scotland.
However, residents said they had seen lorries packed with rubble coming from elsewhere in order to break the rocks down, filling the air with dust.
Councillor Will Dawson contacted the Tele, claiming JKE was "running roughshod" over locals.
He added: "Residents of nearby houses have told me they are having to replace furnishings due to the amount of dust.
"I am also aware that they cannot open windows whilst this work is going on as there is a lack of damping down, and I have concern for residents who have breathing difficulties in this area."
Today, Alistair Todd, a property consultant speaking on behalf of JKE, confirmed the practice was being brought to an end after the Tele got in touch.
He said: "I have spoken with Central Demolition, who have said they had permission from (environment body) SEPA to do what they were doing, namely bringing in rubble from elsewhere from council sites.
"However, we have put a stop to what they were doing.
"We expect them to be off the site by today."
Mr Todd added that he was "surprised" that Mr Dawson had not contacted JKE directly, adding: "We're attempting to speak with Councillor Dawson and would advise him to get in touch if he has any inquiries."
Along with the Stewart House site, James Keiller Estates was also behind the controversial demolition of the Wallace Craigie Works, or Halley's Mill. It has now emerged the proper permissions to level the listed mill were not in place.
Iain Sneddon, commercial manager at Central Demolition, said: "Works are being carried out in accordance with a SEPA exemption."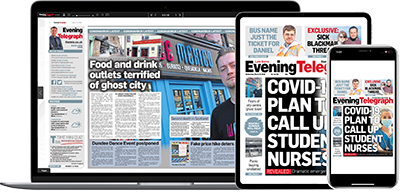 Help support quality local journalism … become a digital subscriber to the Evening Telegraph
Subscribe