Dundee's school meal contractor has defended the standard of its food after a mum posted pictures of her daughter's "awful" lunch online.
Jade Taylor, 31, asked her daughter Alysha to take a picture of one of her meals at St Pius Primary School after the youngster regularly complained of not eating because the food was so bad.
The resulting photo was shared hundreds of times on social media and led to several parents from other schools sharing similar horror stories.
Jade, from Fintry, said: "We thought it couldn't be as bad as she was saying so I asked her to take a picture of what she was served – when she showed it to me I couldn't believe it.
"It looked awful. There was very little, the sausages looked raw and it just didn't look like a healthy option at all."
Jade said that Alysha's primary seven class is regularly served last at lunches.
She added: "She is always coming home starving and now I understand why.
"My son Rhylie is in primary three and as of now I'll not be sending either of them back to school lunches.
"These are costing me £2.10 a day each and are absolutely not worth it."
Alaina Selby, whose daughter Freya, 5, is in primary one at neighbouring Claypotts Primary School, said she too is concerned about the quality of food.
She said: "The meals are disgusting and there's not nearly enough food served either.
"When Freya comes home she is always hungry and she's always telling me how awful her lunch was."
A spokesman for Tayside Contracts said: "Our menus and recipes are produced by a dedicated menu development team and involve a consultation process which includes pupils and other key stakeholders.
"These school meals are nutritionally analysed to ensure they are healthy and well-balanced and comply with regulations set by the Scottish Government. All of the ingredients for our school meals are of the highest quality.
"Our sausages and burgers are made to a bespoke specification by our butcher and have reduced fat and salt to ensure they are a healthier option to reflect the requirements of the Scottish Government.
"We provide standard recipes for each menu item including cooking instructions to all of our cooks to ensure meals are produced using the healthiest cooking methods.
"If there are issues with meals identified, these are fully investigated and resolved."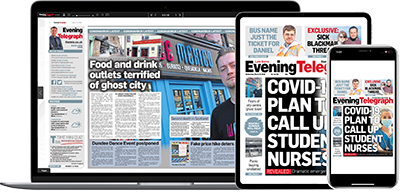 Help support quality local journalism … become a digital subscriber to the Evening Telegraph
Subscribe