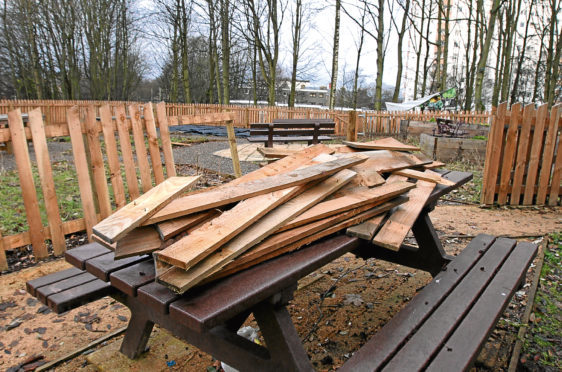 Residents have pledged to "beat the vandals" who trashed their community garden in Lochee.
Extensive damage was caused to the Whorterbank Community Garden for the second time in four weeks.
Police are now hunting the vandals responsible for the damage.
One volunteer called for more lighting to be installed in the area, after fencing around the garden was ripped down.
Lochee councillor Charlie Malone described the damage as "heartbreaking".
He said: "I find it hard to believe that vandals would cause damage to the community garden yet again.
"Everyone involved has worked so hard to make it what it is, and for damage to be caused for the second time in four weeks is unbelievable and absolutely devastating. This is absolutely heartbreaking.
"Many people in Lochee have pledged to come together and beat these vandals.
"We will not be cowed and we will not be defeated.
"Even if I have to wield a hammer myself, the repair work will be carried out.
"People in this community have pledged to make sure the damage is mended and we will carry on.
"I will also be asking the council to offer what support it can to rectify the damage the vandals have caused."
Volunteer Myles McCallum said: "As a helper and volunteer at the gardens, it is really sad to see this happen again.
"I noticed it while walking my dog and it's particularly sad as the garden group was up there only on Monday at a planting event.
"This is the second time the fencing has been vandalised. The last time was only just over a month ago.
"I don't know if it's kids. I wouldn't like to speculate, although I never see any kids hanging around when I'm there.
"A lot of people, including myself, enjoy and take pride in our wee garden and plots so it is a shame to see someone spoil it like this.
"There's so much positive stuff happening in Lochee at the moment.
"Myself and the Village of Lochee Community Partnership are trying our best to improve our area and get people to take pride in the area, so it's sad to see vandalism like this happening.
"I think it's a sign of much bigger problems that need to be tackled in the area."
Mr McCallum added: "It is extremely dark in the garden at night and you can't see anything on the path.
"Quite a number of people use the paths and walk their dogs there.
"Hopefully we can get some funding for new lighting."
Scottish Health Secretary Shona Robison opened the community garden in September.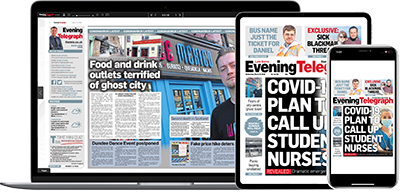 Help support quality local journalism … become a digital subscriber to the Evening Telegraph
For as little as £5.99 a month you can access all of our content, including Premium articles.
Subscribe