A proposed community fridge in Dundee's West End could adversely affect the area before the V&A's opening, it has been claimed.
Gate Church on Perth Road is planning the initiative as a way of providing fresh fruit and vegetables, with donations from people who have surplus food.
Though similar in principle to a foodbank, a referral is not needed and anyone could use the facility, the proposed location of which would be the car park beside the Tartan Coffee House.
Businesses have voiced concerns the community fridge may attract anti-social behaviour, putting off tourists when the V&A opens.
Noel Kemlo, owner of the Tartan Coffee House, said: "I want to stress that we're not against the idea of a community fridge and we would even donate some of our food to it.
"We already get beggars coming in asking to change notes and to use the toilet, and this facility will detract even more from the area.
"We have invested a lot into this cafe and built it up. The shop down the road sells designer handbags and they won't want undesirables hanging around either.
"It won't help the area – we want to keep it quite exclusive, especially with the V&A opening soon.
"We'd be supportive if this community fridge was inside the church rather than out in the open."
Mr Kemlo later said he couldn't recall using the words 'undesirables' and 'beggars' in The Courier interview – offering and an apology if he had – but maintained his objection to the proposal.
Tessa Tricks at Hubbub, who would build the community fridge, said: "Hubbub runs the National Network of Community Fridges and has had an active role in managing community fridges for nearly two years.
"During this time we have never had any complaints of antisocial behaviour or vandalism at any of the fridge sites."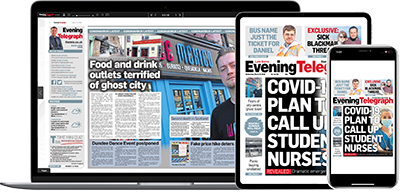 Help support quality local journalism … become a digital subscriber to the Evening Telegraph
For as little as £5.99 a month you can access all of our content, including Premium articles.
Subscribe