The chairman of Dundee's new drug commission has vowed that it will result in "different" outcomes from previous efforts.
Robert Peat said that questions are already being asked about whether the Dundee Drug Misuse Commission will result in real change among drug users in the city – and said he is keen to prove naysayers wrong.
He said: "There have been plans in the past which didn't turn out the way people wanted, so we have to ask: 'What will be different this time?'
"What I would like to see is that as the commission progresses, if new messages come out we won't hold on to them until the end."
Dr Peat, a social work expert, said he hoped that the independent commission will revisit its own work in the months following its conclusion, to ensure that its recommendations are followed.
The commission held its second meeting yesterday at the DCA, during which health experts from NHS Tayside and Dundee Health and Social Care Partnership (HSCP) gave evidence about the impact of substance abuse on the city.
The independent commission heard from public health consultant Dr Emma Fletcher and HSCP
manager Alexis Chappell.
Dr Fletcher presented a stark reality to the commission.
Dundee has a high proportion of problem drug users and drug deaths, and an average of four-and-a-half substances were found in the systems of those suspected to have died of drugs.
Despite this, she said she believes that Dundee's battle with drugs is a "very similar" challenge to that elsewhere in Scotland.
Kuladharini, director of the Scottish Recovery Consortium and a commission member, said the
project has to look beyond the substances people who lose their lives have taken.
She said: "We need to look beyond pharmacology. We get too hung up on that. I'm in recovery myself and I didn't care about the pharmacology of what I was taking. What we have to do is look beyond that."
Dr Fletcher added: "We know the circumstances of people that die of drug death but we don't know how they got to that point."
HSCP manager Alexis Chappell told the commission that work is already underway to "join up" a number of services to help those dealing with addiction issues.
She said the aim is to create a seven-day support service available to people in their local areas, with support for others affected by drug use such as family and carers.
The commission was set up by the Dundee Partnership following consecutive rises in drugs death in the city and is made up of a mix of professionals and people who have "lived-in" experiences of substance abuse.
Sharon Brand, of Recovery Dundee, was happy to see the wider problems around addiction starting to be addressed.
She said: "People are starting to understand that someone's whole life can affect them – not just the fact that they take drugs."
Meanwhile, new figures suggest that wait times for addiction support services are continuing to lengthen as demand rises.
As of the end of March, people in Dundee were waiting as long as 21 weeks to be seen for their alcohol and substance misuse problems. The target is three weeks.
Analysis of figures for the same time a year ago suggests that both the number of people waiting longer and the amount of time they are waiting are rising.
A spokeswoman for Dundee HSCP, which manages the city's alcohol and drug services, said: "Waiting times have been impacted throughout 2017 by current service capacity and, regrettably, this has meant a longer wait for some patients.
"Over the past year, as part of our improvement planning, the service has developed a clearer understanding of a future model of delivery."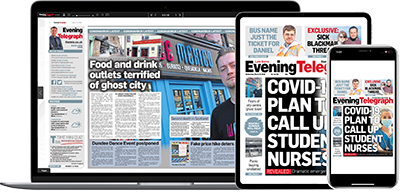 Help support quality local journalism … become a digital subscriber to the Evening Telegraph
For as little as £5.99 a month you can access all of our content, including Premium articles.
Subscribe