A former care home assistant who was accused of putting a resident at risk of harm has said he may never return to the profession even after the case was thrown out.
Daniel Chalmers, 22, was facing a Scottish Social Services Council (SSSC) hearing accused of not providing a blanket for a resident at Benvie Care Home while employed there between 2014-2016.
But the SSSC decided not to pursue the allegations any further due to a lack of evidence.
Daniel, from Strathmartine Road, lost his job as a result of the investigation and ended up leaving the care profession as a result.
Daniel said he was disappointed with how the situation was handled, and that the allegations took a major toll on him personally.
He said: "Basically this was a complaint that got way out of hand.
"I think it was one where I could have been pulled aside and asked what happened and I might have been given a warning in the end.
"I don't want to say too much to protect the resident but someone had been in visiting, complained about me and it's gone much further than it should have.
"The SSSC have such a backlog and they've now come to this about two years later when I've moved on from that part of my life.
"It got to the stage where I didn't want to leave the house because of what happened, but I'm just relieved that they decided to drop the charge against me."
Daniel was studying for a further qualification in social services while working at Benvie Care Home and hoped to go on to specialise in caring for dementia patients.
He now works for a city electrical firm and said the experience has left him reluctant to go back to the care profession.
Daniel added: "I wasn't just working for money, I loved my job.
"I don't think I would go back right now after everything that happened.
"This took such a toll on me personally and I had absolutely no ambition to go out and find another job. I'm just glad it's all done with now."
A spokesman for the SSSC said: "The case against Daniel Chalmers has been closed and there will be no hearing."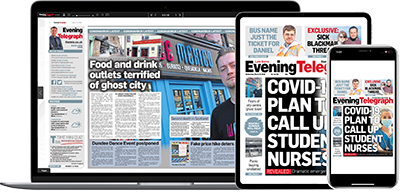 Help support quality local journalism … become a digital subscriber to the Evening Telegraph
Subscribe