Community heads have drawn up a list of issues that need to be tackled in order to breathe life into Dundee's "decaying" city centre.
The City Centre and Harbour Community Council says it is concerned that City Square and the surrounding area is losing out as developments at the Central Waterfront continue.
Community councillors held an open consultation at a farmers' market earlier this year, speaking to local residents about their biggest concerns.
Using the feedback it gathered, the council has now drawn up a list of nine issues it says need addressed.
Bill Newcombe, chairman of the CCHCC, said: "We agreed a sort of action plan we really wanted to take forward, that we feel will promote the city centre and make it more user-friendly.
"There is a general concern for what we see as the decay of the city centre.
"Some of that is to do with boarded-up shops and empty units, but there is also a feeling that the Waterfront could take away from the city centre.
"We find that a little disturbing because while there is a focus on the Waterfront, we really need a vibrant city centre for it to work.
"They should work together and complement each other."
Among the CCHCC's priorities is attracting more businesses into the city centre, making greater use of City Square as an events space and a central play area for children.
It also suggests more central activities during the school holidays – including the previously touted suggestion of an ice rink in City Square.
The community council also believes more local businesses should be encouraged to open up later in the day to reinvigorate the city's nightlife.
Mr Newcombe, added he believes the city centre would benefit from year-round ambient lighting.
He said: "There are plenty of restaurants and pubs which are already trading in the evening.
"But people want cafes and coffee shops to open later, so we get greater use of the city centre throughout the day.
"That would make quite a change to the atmosphere between 5.30pm and 11pm, especially as we're expecting more visitors because of the V&A."
The CCHCC believes unused units could become valuable community assets – with its suggestions including spaces for retired tradesmen to share their expertise with the unemployed.
The community council also believes the city centre needs better signposting, and better vehicle access at the station.
Tracey Clark, an advocate for disabled access in cities, says the lack of ambient lighting in the city centre at night often put her off from spending more time out and about.
She said: "Residents need something to do at night but so do the tourists. They won't just want to sit in a hotel at night.
"I've been in the city centre at night and in some parts it's so dark that I just won't go there.
"I've arranged lifts in the past because I've been unsure about going places myself to catch a bus home in the darkness.
"It's an issue for the whole of the city centre."
David Martin, chief executive of Dundee City Council, met the CCHCC this week to discuss the city's future.
He said: "The future is positive and there's a lot going on here in Dundee.
"We're on a journey of trying to grow and develop and of tackling the difficult issues.
"The city is immensely confident about where it is going but I know the test will be if we can build on it."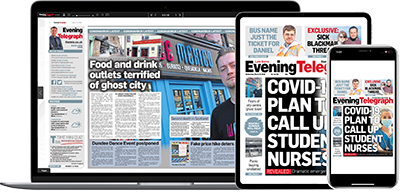 Help support quality local journalism … become a digital subscriber to the Evening Telegraph
Subscribe