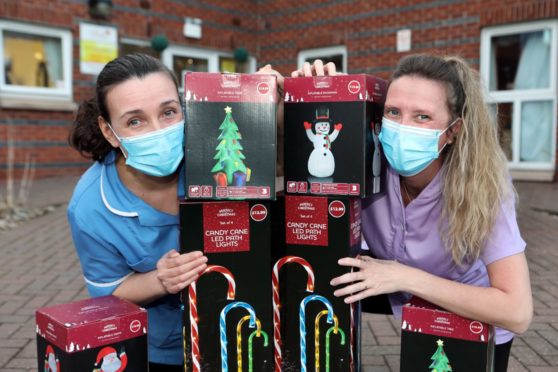 A Dundee care home is appealing for help to create a 'magical' Christmas for residents – despite being unable to erect any indoor Christmas trees.
Pitkerro Care Centre is planning to create a sparkling winter wonderland in their back garden after being told they cannot have indoor decorations this year due to the pandemic.
Normally the care home is adorned in Christmas decorations and trees during the festive period, but this year anything that cannot be wiped down daily is banned.
Staff at the care home are now hoping people can donate outdoor Christmas decorations and lights to help brighten the garden up for residents.
Dawn Soutar, activities coordinator at Pitkerro Care Centre, said: "Since we are not allowed to put up decorations inside, we are instead planning on making outside as magical as we can for our residents.
"Our path goes all the way round the garden like a walkway and we want to light that up and make it all sparkly.
"We want to add something special to this Christmas because we are all feeling a bit miserable.
"The garden is a place where residents can still go outside and walk around and feel like it is still Christmas time.
"It is sad because families can't come in at the moment and usually Christmas is a time to spend with your family."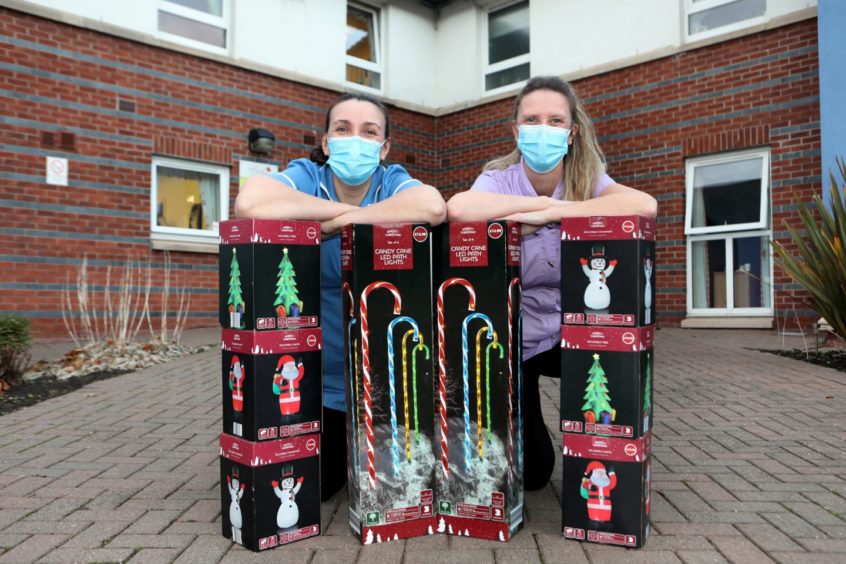 She added: "So far we have some giant candy canes, a Christmas tree, a Santa and a snowman but we have quite a large garden.
"We have a Christmas tree growing out the front so we will chop that down and put it out the back but we are still looking for another two trees at least.
"Normally every unit here has its own tree and decorations, and it is such as shame this year.
"But we need to make the best of what we have by making the outside look extra special this year.
"It will look brilliant and we are hoping to have it in place for the very start of December to give the residents as much time with the decorations as possible.
"We want to try anything that will cheer them up."
A spokeswoman for Hudson Healthcare, the operator of Pitkerro, said: "We are absolutely committed to making the best out of this festive season.
"As some of the traditional Christmas decorations that we would usually put on display cannot be thoroughly and regularly disinfected and wiped down due to the rigorous standards of infection control that need to observed as a result of the pandemic, particularly as the virus can live on surfaces for some time if not thoroughly and regularly cleaned, we are making some changes to how we decorate our Home this year.
We have been working hard to source decorations and trees that meet these cleanliness standards, and although they might look a little different to the traditional items we usually display, we are dedicated to creating a holiday season that is memorable and enjoyable for all our residents and staff.
"We are pleased to share that as part of our plans we are also creating an outdoor winter wonderland where more traditional festive décor, including usual trees and lights, can be displayed and enjoyed by our residents and staff safely, and are even kicking off festivities earlier than usual to ensure that the holiday period is enjoyed for as long as possible."
To donate outdoor Christmas decorations, contact Pitkerro Care Home on pitkerro@hudsonhealthcare.co.uk or call 01382 214520.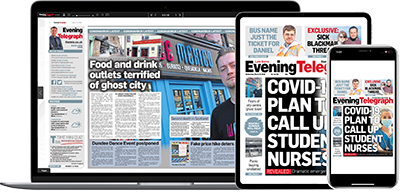 Help support quality local journalism … become a digital subscriber to the Evening Telegraph
Subscribe