A Dundee entrepreneur believes her chewable stationery invention can improve the lives of children living with autism.
Jenny McLaughlan, 41, who appeared on Dragons' Den in 2015, first enjoyed success with teething jewellery business Gumigem.
The idea was inspired by Jenny's own experience as a mother.
Her creation gives children a non-toxic appliance to chew on and relieve the discomfort caused by teething.
The jewellery is worn by the child's parent, giving the child easy access.
Buoyed by her success with Gumigem, Jenny has since launched Chewigem, a venture which designs safe, chewable items for autistic children.
Some people with autism like to chew on items to gain sensory relief.
Horrified by stories of children chewing dangerous items such as batteries, Jenny has now helped create a "discreet" chewable stationery kit for schoolchildren.
Jenny said: "The new product is designed for schools.
"Schools are becoming more accepting of jewellery but some children still don't want to wear it (Gumigem products).
"The new product is a very discreet, chewable stationery kit. The kit has been designed with the National Autistic Society — we've worked with them to develop it.
"I've been told of people chewing batteries in the past, so this can be something which gives people with the need to chew something to chew in a safer way.
"We've made the stationery as discreet as possible so the children using it don't stand out."
Jenny's efforts have led to her being nominated for an autism hero award.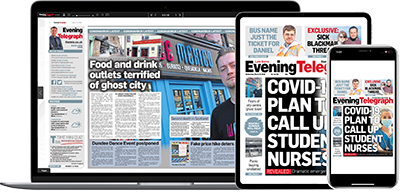 Help support quality local journalism … become a digital subscriber to the Evening Telegraph
For as little as £5.99 a month you can access all of our content, including Premium articles.
Subscribe