Nearly a quarter of a million pounds has been raised in Dundee ahead of the city's first-ever Sleep in the Park event this weekend.
Slessor Gardens will be packed with 1,500 hardy souls on Saturday, all of whom will be spending a night under the stars to raise money for the homeless charity Social Bite.
The event will be held simultaneously in Dundee, Edinburgh, Glasgow and Aberdeen, with a total of 12,000 participants sleeping rough for the evening.
A star-studded line up of performers will be taking to the Dundee stage on the night, including Amy Macdonald, KT Tunstall and the city's own singer-songwriter, Kyle Falconer.
Kyle, who recently took home the award for best album at the 20th annual SSE Scottish Music Awards, said: "I feel great about performing, it's a great cause.
"It will be cool playing a home stage and it will be an acoustic performance as well.
"It's good that the event is coming to Dundee and the city is getting to take part.
"A few of my nieces and some other family members are going to be sleeping out.
"They've been really dedicated to raising money.
"I'm sure the event will raise a lot of money for the cause."
Artists Fatherson, Hunter & the Bear and Withered Hand will also be performing in Slessor Gardens – where temperatures are expected to drop to about 2C.
Comedian and presenter Ewen Cameron will be hosting the evening in Dundee.
Trainspotting author Irvine Welsh will also tell a bedtime story in Edinburgh, which will be live streamed to the other cities.
Last year the event raised £4 million, with 8,000 people taking part in the world's largest sleep out in Edinburgh's Princes Street Gardens.
Josh Littlejohn MBE, co-founder of Social Bite, said: "The money raised from Sleep in the Park will be put towards rapidly rehousing rough sleepers and providing them with support.
"We'll make sure that the most vulnerable members of society – for example people coming from the care system or prison – don't end up homeless.
"The funds will also go towards a number of other programmes that will be a catalyst for long-term structural change."
Justene Ewing was among the 8,000 sleeping out in Edinburgh last year, and will be at Slessor Gardens on Saturday.
She said: "I think when you are lying there in the cold by yourself in your sleeping bag with your own thoughts and thinking about why you are doing this, it's quite a humbling experience.
"Lying in a park in Edinburgh completely by myself last year was quite intimidating – whereas this time, I will be doing it with people that I know in a smaller city and in an environment that, because I've had that experience, it'll feel a little bit more familiar.
"Although, I suspect while I lay my head down on the ground to try to get some sleep, I'll have the same kind of thoughts."
People can join Sleep in the Park by committing to raise £100, including an initial £50 donation.
Businesses can sign up a team of five or more, with a minimum fundraising commitment of £3,000.
For more information visit sleepinthepark.co.uk.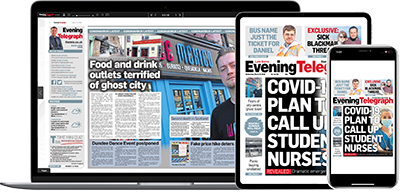 Help support quality local journalism … become a digital subscriber to the Evening Telegraph
Subscribe