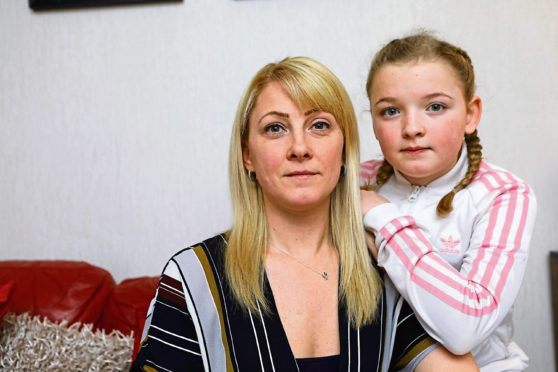 A Dundee care worker says proposed changes to shift patterns and working hours would leave her facing a childcare nightmare.
Gail McAllister, 39, from Coldside, has been a care worker with Dundee City Council for 19 years and works 24 hours a week over four days.
Her current shifts already mean she has to leave her daughter Ava with her mum before going to work in the morning and sometimes overnight.
And Gail said proposed new shift patterns would impact childcare arrangements further.
She said: "I would have to drop Ava off at my mum's in time for me to be at work at 7am and I wouldn't be able to collect her until after 10pm.
"I can't possibly get her out of bed very early and then take her out of bed again so late at night.
"She tells me she already gets tired at school sometimes so this would only make it worse."
Gail said she would be left with a choice of working a 30-hour split shift, a 25-hour split shift or the option of working a 23-hour shift over a week.
She added: "I am faced with not seeing my daughter for 144 days a year or I am forced to take a reduction in my hours which would result in a drop in my wages – and I still wouldn't be seeing my daughter.
"This is a dreadful situation to be in. I'm caught between a rock and a hard place.
A spokesman for Dundee Health and Social Care Partnership said: "With potential changes to the current dated system of shift working, the percentage of time our workforce can spend with their service users, supporting them in their own homes, would increase from 45% to 72%.
"It would provide about 1,000 hours of extra contact between staff and service users each week, which means we can get more people out of hospitals and into their own homes.
"More focused hours with the people we care for promotes continuity of care – we know from service users' feedback regularly seeing the same faces is important and allows visits at the times of day when people need them most.
"The proposal also reduces the travelling time currently undertaken by elements of this workforce with the introduction of locality working.
"We continue to work closely with staff and trade unions, including talking to them about hours of work and shift patterns. This is a very important part of the Dundee proposal, where we value the commitment and dedication of our workforce, compared with the amount of outsourcing which has taken place in other areas."