The chairman of the independent inquiry into mental health services in Tayside has pledged it will produce real results – and not just a "glossy brochure".
Former chief inspector of prisons David Strang said his inquiry will also retain its independence, and that he was confident the Scottish Government would not have to step in.
Ministers could take over the running of the inquiry – launched following the suicides of people who had used mental health services – if its impartiality was called into question.
The inquiry is now accepting submissions of evidence from the public.
Mr Strang said: "Fundamentally, this inquiry is about improving how mental health services are delivered, around which there is a lack of public confidence.
"Our work is about that, rather than producing a glossy brochure of recommendations.
"Families and carers have been very heavily involved and over the next six weeks we will collect evidence that will shape the future direction of the inquiry."
Relatives of some of those who took their own lives, including Dale Thomson and David Ramsay, fear NHS Tayside could interfere with the process.
However, Mr Strang said the health board would have "no access" to evidence.
He said: "I had a very productive meeting with families about four weeks ago and we spoke in great detail about how we would work.
"The important thing for me is that our recommendations will be based on evidence – not on impressions or anything like that.
"There are also years of published reports for us to refer to.
"People can send us evidence in confidence – and we will be asking staff if they feel supported and well looked after.
"I have said from day one that this inquiry will be open, and it will be transparent – and I don't think the Scottish Government will have to step in."
Evidence can be sent electronically to independent inquiry@dundee.ac.uk. Written submissions can also be made by post to Independent Inquiry, 15/16 Springfield, Dundee, DD1 4JE.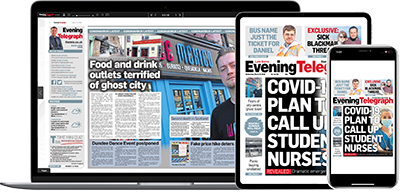 Help support quality local journalism … become a digital subscriber to the Evening Telegraph
Subscribe