A grandad who was allegedly attacked with a chainsaw in an alleged park murder bid has thanked the emergency crews who went to his aid.
Arthur Innes, 61, from Kirkton, was preparing for a round of golf at Caird Park when he was allegedly targeted.
Joe Brown, 44, is accused of trying to murder Arthur by repeatedly striking him on the head and body with the chainsaw while its motor was running — as well as attacking another man in the park with a Taser.
Arthur, who works for the city council, received treatment in hospital but has returned home to recover.
He says he's been overwhelmed by the response of locals, who have wished him well since — and has thanked the emergency services who attended on Wednesday.
He said: "It was only the third time we were playing the course this season.
"The police and ambulance crews were there extremely quickly.
"I couldn't fault the police for what they did on the day.
"Given the situation I thought the police did what they had to do.
"I'm surprised to hear that there is a complaint against them for their conduct.
"I was treated at the scene initially before being taken to Ninewells.
"I was in hospital by 5pm and left at 9.30pm, and I was down to give the police a statement following that. I've had so many people contacting me, I've been overwhelmed."
The Dundee United fan added: "I've been taking each day as it comes.
"At the moment I think my family are taking it harder than I am."
Brown, of Graham Court, appeared at Dundee Sheriff Court on petition on Thursday to face four charges.
As well as the attempted murder, he is charged with assaulting Andrew Hay, 60, at Mains Loan by striking him with a working Taser.
He's further accused of possessing the Taser, disguised as a mobile phone, without lawful authority, and of behaving in an aggressive and threatening manner at Graham Court.
Police are investigating a complaint by a nearby resident over the way they acted during Brown's arrest.
Police to investigate complaint of officers' handling of Dundee 'chainsaw' incident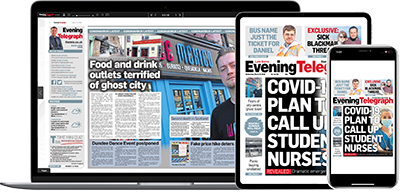 Help support quality local journalism … become a digital subscriber to the Evening Telegraph
For as little as £5.99 a month you can access all of our content, including Premium articles.
Subscribe