A long-lost cat has been reunited with his family nearly two and a half years after he went missing – having turned up in a different town.
Fudge, an 11-year-old tabby, was found wandering the streets of Arbroath after disappearing from his Carnoustie home in August 2016.
His owner, Andy Rowe, 51, an insurance broker, was shocked when he got a call on Sunday from Arbroath and Carnoustie Cats Protection Adoption Centre to say his pet had been found.
Andy, who lives with his children Luke, 16, and Jack, 22, said: "We lost him two years and four months ago when we returned from a wedding and couldn't find him.
"He just vanished – we shouted and shouted but he didn't reappear.
"We put pictures of him on Facebook and went round different places to see if he was there."
After two years of no news about Fudge, the family didn't expect to see him again. Andy said: "I was at home and the Cats Protection phoned and said they had found him. I was like: 'What? We were all just sat there thinking: Wow – this is unbelievable'."
Fudge was quickly collected from the adoption centre and taken back to his home seven miles away. He was adopted along with his sister, Chilly, a decade ago from the same centre.
Andy said: "Chilly wasn't too happy to see him.
"She must be thinking: 'What is this cat doing in my house?' Fudge looks like he's been well looked after. My sons were so pleased to see him.
"We were all close to the cat, Fudge is part of the family."
Andy's son Luke, a Carnoustie High School pupil, added: "I'm very happy we've got Fudge back, it's been a while since we've had two cats in the house.
"I was a bit nervous about seeing him at first in case he hated us or something but he's purring away on my lap now."
Sharyn Wood, branch co-ordinator for Arbroath and Carnoustie Cats Protection Adoption Centre, scanned Fudge's microchip and called Mr Rowe on Sunday to give him the good news.
She said: "The family were as shocked as we were."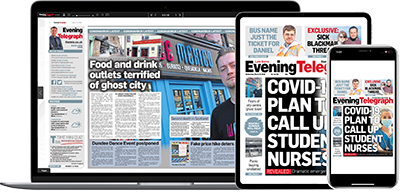 Help support quality local journalism … become a digital subscriber to the Evening Telegraph
Subscribe