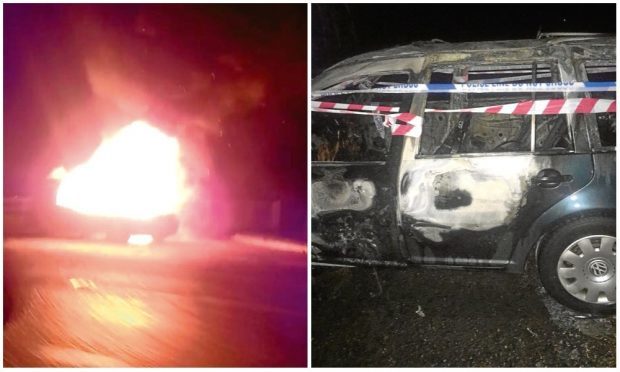 Fire crews were called to tackle a vehicle that was seen engulfed in flames near to a famous golf course.
The car, a green Volkswagen, was seen alight with "incredibly high" flames on the A91, near to St Andrews.
The blaze took hold opposite the Balgove Larder, next to St Andrews' Old Course.
Police Scotland said the fire occurred due to an electrical fault and it was not being treated as suspicious.
The force said the driver was out of the car before police arrived.
An eyewitness told the Tele: "I was at the driving range in St Andrews when I saw the flames near Balgove Larder.
"Initially, I thought it was one of the local farmers burning stuff in their fields.
"The flames were incredibly high — I could not believe that you could see them from so far away.
"When I left the golf driving range, I saw a fire engine going past me. By the time I was driving to Dundee, the fire service had managed to get the blaze under control.
"The emergency services were really quick to arrive and get the fire under control.
"I am really glad that the occupants of the vehicle were safe."
Another resident described seeing a "proper blaze".
The eyewitness added: "The fire engine arrived while I was waiting in the queue behind.
"Not long after, they were followed by police and an ambulance."
The burnt-out vehicle was still at the scene yesterday morning surrounded by police tape.
There was extensive damage to the paintwork of the vehicle and it was missing all of its windows.
A spokesman for the Scottish Fire and Rescue Service said: "We received the first call-out to a vehicle on fire on the A91 at 5.30pm on Thursday.
"We dispatched one engine and it arrived on the scene at 5.38pm. The blaze was extinguished by the crew at 6.12pm.
All occupants were out of the vehicle by the time of our arrival."
A spokeswoman for Police Scotland said: "We were in attendance at a vehicle on fire.
"Police Scotland assisted the fire service in ensuring that the scene was safe.
"The fire started due to an electrical fault within the vehicle.
"The occupant of the vehicle was able to get out safely before we arrived — they were safe and well."
The blaze caused some travel disruption in the area, including to bus services.
Stagecoach routes were delayed as a result of the car blaze.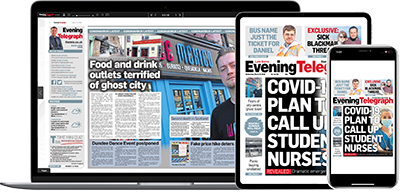 Help support quality local journalism … become a digital subscriber to the Evening Telegraph
For as little as £5.99 a month you can access all of our content, including Premium articles.
Subscribe