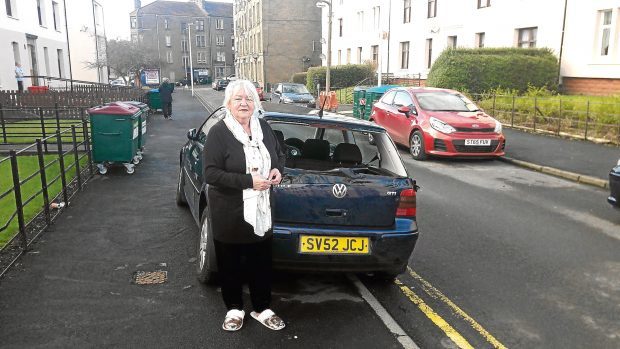 Residents of a Dundee street have demanded an abandoned car that has lain outside their homes for more than two weeks be removed.
The dark blue Volkswagen Golf GTI was dumped on double yellow lines in Wedderburn Street, Coldside. It has a smashed rear window, two flat tyres and has been described as an "eyesore".
Folk in the area said they feared the car may become a target for firebugs.
Nina James, a retired hairdresser, has lived in the street for more than two years.
The 71-year-old told the Tele she thought the car had been stolen.
She explained: "I thought the car would have been moved on by now. I'm aware that other residents have contacted the police regarding it. When I saw the smashed window, I initially thought it had been stolen and abandoned in the street.
"The road is quite narrow at the best of times, with parked cars and the bins.
"Where it is positioned, it's quite close to the junction with Caird Terrace, so it is quite hazardous."
One motorist claimed the abandoned car had previously been spotted at Fairmuir Street and Clepington Road in recent months in a similar condition.
Alex Webster, 74, a retired labourer, said the pavement was being obstructed, causing limited access for wheelchairs and zimmer-frames.
He added: "I've contacted the police three times regarding the car. Yesterday morning, a bin lorry had entered Wedderburn Street and had to reverse back out as it couldn't get along the street.
"One resident told me the car's owner said he had broken down but he hasn't been back since, it must be two weeks that car has sat there now.
"I certainly wouldn't want that sitting outside my front door for that time. It's an eyesore. It has also made the pavement more narrow for wheelchair access."
One resident said a parking ticket had been ripped off the car and replaced with a notice saying someone was interested in buying the vehicle.
She added: "Our concern is that the vehicle might be targeted by firebugs if it continues to languish in the street."
A Dundee City Council spokeswoman said: "We are investigating the matter."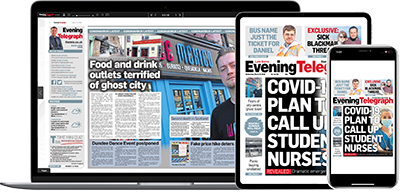 Help support quality local journalism … become a digital subscriber to the Evening Telegraph
Subscribe