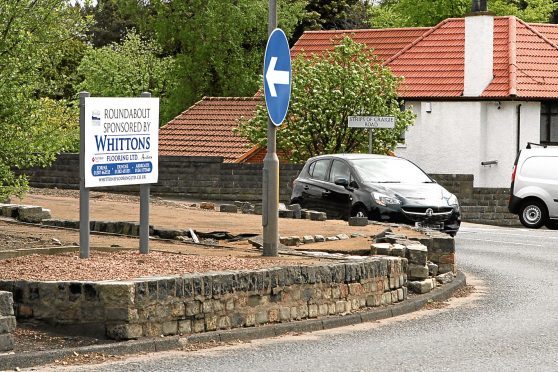 A reckless driver mounted a pavement during a police chase in a bid to escape pursuing officers.
Eyewitnesses reported seeing a blue Renault Clio speeding around the roundabout near the entrance to Kingsway East Retail Park, with a single police car following closely behind in pursuit.
The car, thought to have one male occupant, then mounted the pavement on the wrong side of the road at Kingsway East and sped towards the Scott Fyffe Roundabout.
No one has yet been charged in connection with the incident, which happened at around 1.45pm on Thursday.
Gas engineer Scott MacIntyre, 25, was leaving the nearby Asda store via the roundabout when he saw the chase unfold in front of him.
He told the Tele: "The Clio came from the west and went round the Mid Craigie circle on the right side of the road as if it was going to go up Mid Craigie Road.
"But the boy bumped up on to the pavement and powered down towards the Scott Fyffe, going past the three wee cottages beside the circle and the Stewart's building.
"He must have been going at 30 or 40 miles per hour on the roundabout itself.
"The police bumped up on to the pavement as well but they turned back, went round the circle and shot down the Kingsway on the right side of the road.
"I can imagine they'd have got in bother if they'd followed him down the pavement."
Scott, from Menzieshill, said the car then cut across oncoming traffic as it joined the Scott Fyffe Roundabout and likened it to a car chase on TV.
"The boy drove all the way down the pavement then cut across the wrong side of the road to join the Scott Fyffe," he added.
"He went round the Scott Fyffe the right way, then I saw him speed along Arbroath Road towards the park and the police followed him.
"I was thinking he was going to hit somebody. It was like something out of America's Wildest Police Chases.
"I turned to my pal in the car and said, 'You don't see that every day'.
"We were working on the pavement he drove down just three weeks ago."
A police spokeswoman said officers were continuing to investigate the incident.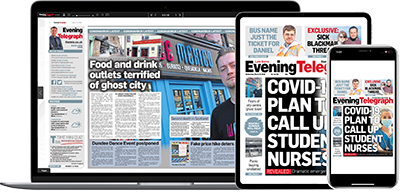 Help support quality local journalism … become a digital subscriber to the Evening Telegraph
For as little as £5.99 a month you can access all of our content, including Premium articles.
Subscribe