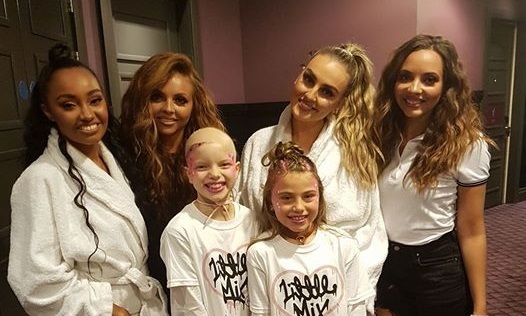 Perth youngster Lily Douglas, who has been diagnosed with Stage 4 Ewing Sarcoma cancer, was "screaming with delight" when she met four of her heroines last night.
The nine-year-old, who attends St John's Academy, was accompanied by pal Cerys Robertson.
They met Little Mix at the Malmaison hotel, where the group were staying, before they took to the stage in front of 11,000 ecstatic fans at Slessor Gardens in Dundee.
And, during one of their songs, the group waved to Lily and Cerys.
Lily's mum, Jane Douglas, who is originally from Dundee, said: "Lily just came out of hospital on Monday and was in a wheelchair.
"She and Cerys were screaming with delight as we were going up the lift at Malmaison to meet Little Mix.
"Little Mix were just brilliant with the girls chatting and taking an interest in them and giving them various goodies.
"They were lovely to the girls and meeting Little Mix was a great experience which we will never forget."
Dance champ Lily, 9, facing her toughest fight against rare cancer