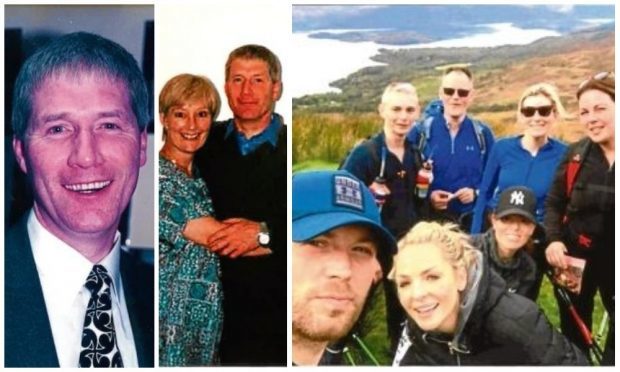 The name Stuart Scott may not immediately ring any bells, but walk through Dundee and his legacy is hard to miss.
He was in the construction business all his days, from being a teenage heating engineer to ultimately becoming a professional project manager who helped bring the DCA and the new Overgate to Dundee, while acclaimed projects in Edinburgh, Birmingham and Dublin also bear his mark.
A dad and a granddad, Stuart was a gentleman, skilled and quiet. When kidney cancer claimed his life in August 2016, it was a devastating blow for his family.
Stuart, 69, and his wife, Lynda, had been together since they were teenagers and he doted on his daughters, Gail and Leigh, and adored the grandchildren.
But now, his name is living on in another way, thanks to the tireless charity work of his youngest daughter, Gail Robertson.
She has led a drive that has not only raised thousands of pounds for Kidney Cancer Scotland, but she's also been appointed as a fundraising manager for the organisation.
"Dad was born in Bridge of Allan and moved to Lawrence Street, Dundee, before settling in the West End," said Gail.
"He was fit and active, but started feeling unwell. He was tired, feeling cold all the time and losing weight.
"He went to the doctor and initially they thought he was suffering from stress."
From diagnosis to the family having to say goodbye was literally a few weeks.
"You don't quite get over something like that," said Gail. "So, what do you do?"
The family had been supported throughout by Kidney Cancer Scotland and Gail decided to focus on helping them and establishing a legacy in memory of her dad.
"Kidney cancer is the seventh most common cancer in the UK, with 33 people diagnosed every day," said Gail. "Incidences of it have more than doubled in the last 40 years and three-quarters of those diagnosed are people aged 60 and over."
The first fundraising effort Gail organised was to trek the West Highland Way.
"Dad did it when he was in his early fifties, so it seemed a fitting project," said Gail.
She enlisted her husband, Gordon, brother-in-law, Seamus, and five pals for the hike, and they were ably assisted by Jim Smyth, a friend of the family, who drove the support van.
"It's 96 miles and we did it in three days, just like my dad did — but it was tough," said Gail.
The trek raised £8,000 and was preceded by a dinner dance in the Invercarse Hotel.
It's a testament to Stuart's character that the dance raised £16,000 and Gail will be rounding up the same team who tackled the West Highland Way to complete all four Kiltwalks during 2018, with ambitious plans afoot to climb Mont Blanc.
"Dad was a lovely man, a dignified man, and I feel he's still with us," said Gail.
"I would urge anyone who feels any of the symptoms associated with kidney issues to speak to their doctor.
"I'm going to continue doing what I can to raise funds for research into this — it is going be my dad's legacy."
A Facebook page, Anchor Legacy, has been established in loving memory of Stuart.
Kidney Cancer Awareness Week runs from February 5 to 9.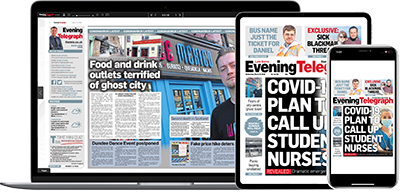 Help support quality local journalism … become a digital subscriber to the Evening Telegraph
Subscribe