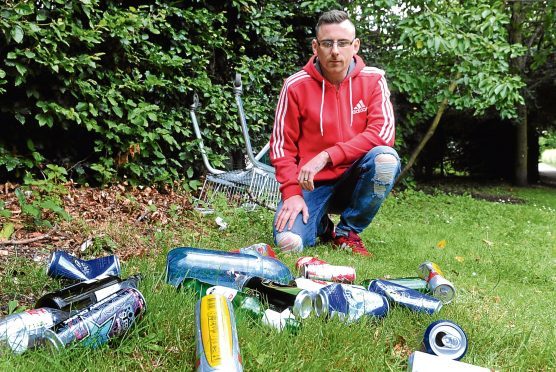 Litter louts have been blasted for leaving a "disgusting" mess left on a pathway in Dundee.
Matthew Sansbury, 26, of Thurso Crescent, said the pathway which leads to the Carseview Centre has been strewn with litter "on and off for years".
He described the mess — which has included empty alcohol cans and bottles — as a health hazard for children and animals.
He has called for people to have pride in their area amid fears someone could get seriously injured unless action is taken.
Matthew, 26, who works as a doorman, said: "There are loads of empty cans and bottles of super-strength cider and lager.
"There's even an empty Asda trolley been dumped and never picked up.
"I moved here about nine years ago and it seems to have been like that on-and-off, but the past six months have been particularly bad.
"There's a dog dirt bin as well that's often left overflowing."
Matthew said his concerns were being "ignored" by Dundee City Council.
He explained: "A lot of children live around here and you would be worried for them stepping on broken glass.
"It's also a popular dog-walking route, so a dog could be hurt."
Matthew also said he thought there were drug users using the area. He added: "It is a secluded bit, so it would not surprise me if people were taking heroin up here.
"The area has really spiralled downhill the past couple of years.
"You see the police around here a lot.
"I just wish the council would come and clear this mess up — at least that would be a start.
"I have been in touch two or three times, but to be honest it's like they don't care.
"People should have more pride in their local area too."
Councillor for the area Michael Marra said: "This is another example of the litany of complaints we have received from this ward and the city as a whole.
"There needs to be immediate action taken and a broader solution in the long term — I will be following this issue up."
A spokeswoman for Dundee City Council said: "We are looking into this."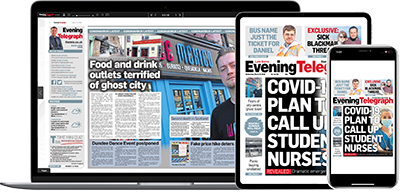 Help support quality local journalism … become a digital subscriber to the Evening Telegraph
For as little as £5.99 a month you can access all of our content, including Premium articles.
Subscribe