A grandad has voiced concerns that an international karate tournament being held in Dundee will be played out in a "dumping ground".
John McNaughton, 73, said items including gas canisters, tins, bottles and household waste were scattered outside Dundee Ice Arena in Camperdown.
The venue will play host to the seventh WUKF World Karate Championships next month.
About 4,000 athletes, coaches and supporters are expected to descend on the area.
Mr McNaughton said: "We are going to have visitors from all corners of the world coming to Dundee for the first time.
"I had a walk up to the area on Sunday morning as I knew the arena was hosting this tournament.
"They will be putting up a massive marquee in the car park for athletes to train in during the event.
"As I had a walk around the area I saw gas canisters, cans and bottles strewn all around the rear of the building and at the side — it's a disgrace.
"There were actually rats in plain sight scurrying around. It has become a dumping ground. I don't know whose responsibility it is to tidy the area up.
"It isn't going to be a great first impression for people visiting the city or the arena for the first time.
"I know other premises, including McDonald's, send staff out to clean the area surrounding their establishment.
"We have this great event coming to Dundee and it would be disappointing if it remained like this for the tournament.
"I know there have been issues with members of the travelling community before and issues surrounding fly-tipping."
The retired telephone technician added: "This is the first time I'd seen the rubbish first-hand.
"It's disgusting that people choose to use the area as a dumping ground.
"If a group of volunteers wanted to get together to tidy the area, I would certainly be willing to help."
The championships run from June 14-17 and tickets are priced at £27.54 for the full four days for adults, with children's tickets available for £16.76
A spokesman for Leisure and Culture Dundee, which manages the ice arena, said: "This is privately owned land and is not managed by Leisure & Culture Dundee.
"However, we do support calls for the area to be cleaned up and ask everyone to be vigilant of fly-tipping in the area."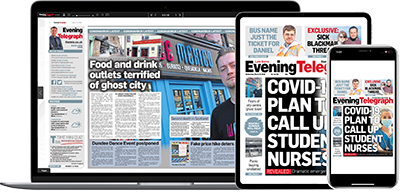 Help support quality local journalism … become a digital subscriber to the Evening Telegraph
Subscribe