A Dundee councillor has called for a crackdown on litter louts after pleas for sunseekers to pick up their rubbish went unheeded.
The problem has been worse since May, when the area around Broughty Ferry beach and the castle was left covered in food wrappings, towels, plastic bags, disposable barbecues and alcohol bottles.
Dundee City Council provided more bins around the Esplanade to try to remedy the issue.
However, locals say the problem has continued as the heatwave shows no sign of ending.
Residents have reported youths eating and drinking around Broughty Ferry Castle and leaving their rubbish behind.
Broughty Ferry Liberal Democrat councillor Craig Duncan said it was time to "get tough" with litter bugs.
He said: "It is disappointing, although it is important to remember it's a minority doing this.
"I have been in touch with the environmental department about having some more bins put around the castle area – at the moment the extra bins are further down along the waterfront.
"The grassy area in front of the castle is popular with young people and unfortunately if there isn't a bin within a few feet, some people will just leave their rubbish.
"After the new bins, and perhaps some signage are put in, it will be time to get tough by starting to give out more fixed penalty notices."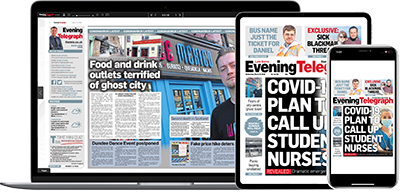 Help support quality local journalism … become a digital subscriber to the Evening Telegraph
For as little as £5.99 a month you can access all of our content, including Premium articles.
Subscribe