A call for action has been made after a number of school safety breaches were revealed.
There have been at least 143 safety incidents at Scottish schools in the last two years, according to figures obtained by the Scottish Conservatives.
Freedom of Information responses from local authorities have revealed a catalogue of incidents and near misses involving walls collapsing, windows falling onto playgrounds, ceiling tiles striking teachers and loose concrete hitting pupils.
In Perth, a goal post fell and landed on pupil's head at Letham Primary School in April 2018. No hospital treatment was required.
In Fife, five primary schools each experienced the partial collapse of boundary walls.
At Crieff High, a panel on back of toilet fell and hit a pupil.
Three incidents took place at Liberton High in Edinburgh, the school where 12-year-old Keane Wallis-Bennett died when a wall collapsed in 2014.
That included, in April this year, a case where a "heavy ceiling tile fell, landing close to a pupil", with another falling and landing near a teacher.
A child was trapped under a sliding partition door after it came off its runners at a new school in Dumfries and Galloway that was forced to close after numerous safety incidents occurred in just a few weeks.
At Clermiston Primary in the Edinburgh a "window next to a pupil fell in due to a gust of wind" last year.
And a similar incident happened at a Glasgow school in September this year when a "window (glass and frame) became detached and fell approximately five metres to the playground".
Other incidents include a pupil being struck by a metal panel from a roof in West Lothian, and a ceiling collapse in East Ayrshire.
Scotland-wide, the true figure is likely to be even higher, with many councils failing to collect and publish the information.
The Scottish Conservatives have now renewed their call for building reports to be included in school inspections in order to keep children and staff safe and in appropriate buildings.
Scottish Conservative shadow education secretary Liz Smith said:
"Each one of these incidents represents a risky situation that children or staff have been put in while at school.
"Children and staff must be safe at school, and the fabric of the school buildings must be maintained properly.
"Including building reports in school inspections is an obvious way to ensure that school buildings are fit for purpose and prevent any more avoidable accidents.
"It is extremely fortunate that more children or staff haven't been hurt.
"The SNP must ensure that schools are properly built and maintained; including building reports in school inspections would enable effective monitoring of school buildings and prevent further harm."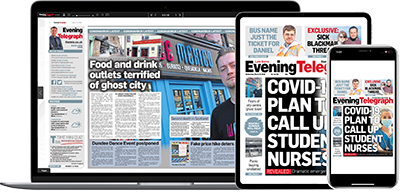 Help support quality local journalism … become a digital subscriber to the Evening Telegraph
Subscribe