Council chiefs have been urged to force the landlord of a derelict building to give up ownership of the property after a massive fire ripped through it.
Fire crews tackled the huge blaze in the former Forebank House in Dundee's Forebank Road at about 7.30pm on Tuesday.
The building is thought to have been disused for the past 25 years and no one was injured in the fire.
Police were at the scene of the incident yesterday and have launched an investigation.
It is not yet known if the fire was suspicious but one local councillor said he had heard reports of people accessing the site in the days leading up to the incident.
Councillor Jimmy Black said he is now going to ask Dundee City Council to make a compulsory purchase order on the building before someone is killed on the site.
He said: "The site was secured a few years ago and the number of incidents there had gone down in the last couple of years.
"Unfortunately, a gap has opened up and it's not difficult to gain access to the site now.
"I actually had complaints from residents in the last couple of days saying people were going into the house again.
"It is a mixture of young and older people who are going in on a regular basis."
"Someone died in the building a few years ago and it has clearly been a problem for a long time.
"It is a dangerous place and something needs to be done about it.
"I am going to write to the director of city development Mike Galloway and ask the council to consider proposals for compulsory purchase of the site.
"I don't know what it's like now after the fire but it was a beautiful house and if it was redeveloped it could be really beneficial for the Hilltown and stop these incidents from taking place. I don't know who owns the building now but they need to either redevelop it or hand it over."
A Scottish Fire and Rescue Service spokesman said: "We received a report of a fire in Forebank Road, Dundee, at 7.31pm.
"Four appliances were in attendance as well as an aerial appliance. The fire was extinguished and the stop message came in at 11.13pm.
"A crew went back out at 6am today to re-inspect the area, just to check there weren't any heat spots."
A spokeswoman for Police Scotland confirmed that officers are investigating the blaze and appealed for information.
She added: "A joint investigation is being carried out with Scottish Fire and Rescue Service."
VIDEO: Fire crews battled derelict Dundee house blaze for hours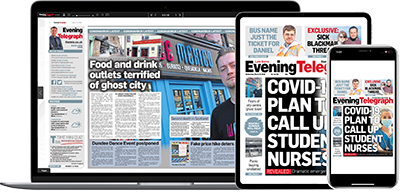 Help support quality local journalism … become a digital subscriber to the Evening Telegraph
Subscribe