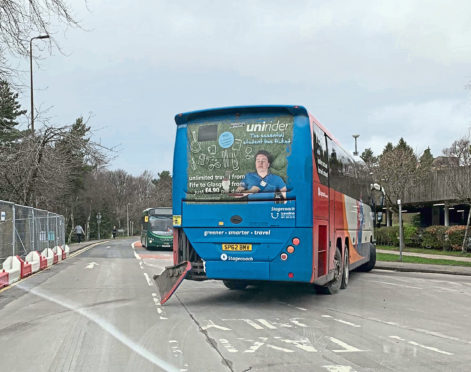 Stagecoach has launched an investigation after one of its vehicles collided with fencing within the grounds of Ninewells Hospital.
One eyewitness claimed the bus tried to "turn on a sixpence" before it was damaged close to the hospital's main entrance.
Pictures taken from the scene show the Stagecoach vehicle straddled across both lanes on James Black Place.
The image shows the extent of the damage to the bus, which has part of its the left rear light dangling on the floor.
A spokeswoman for Stagecoach confirmed the X54 bus had collided with some temporary fencing whilst making a "manoeuvre".
The witness who saw the incident unfold said: "I've never seen a bus trying to make a manoeuvre like that within that space so close to the main entrance.
"Doing that in such a confined space was like trying to turn on a sixpence.
"It was temporary fencing that the driver had collided with.
"I think it has been put up while trees are being cut down close to the road.
"Suffice to say the bus didn't hang around from what I could see following the collision.
"To be fair to the driver it was maybe his first time in that part of the hospital.
"Maybe he was unsure how much room he had.
"There were staff working on the site who managed to sort the fencing out fairly quickly.
"Thankfully it appears there was no major harm done."
A spokeswoman for NHS Tayside said they were aware of the incident.
She said: "The area was functioning normally and traffic was not disrupted."
A spokeswoman for Stagecoach said: "One of our vehicles operating on service X54 collided with some temporary fencing while making a manoeuvre within the bus stance area at Ninewells Hospital.
"No one was injured as a result of the incident and we are investigating the full circumstances."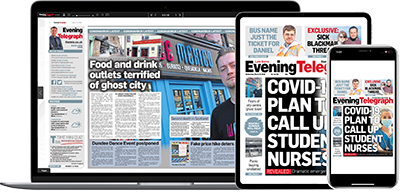 Help support quality local journalism … become a digital subscriber to the Evening Telegraph
For as little as £5.99 a month you can access all of our content, including Premium articles.
Subscribe