A heartless brother and sister who preyed on vulnerable elderly women have been jailed.
Evelyn McPhee, 32, a prisoner at Edinburgh, and John McPhee, 34, a prisoner at Perth, conned their way into the houses of four OAPs and stole their purses.
In each case, Dundee Sheriff Court heard, the callous scammers asked for a glass of water to distract the women before stealing their purses containing various sums of cash.
They rang the doorbells of the four houses and talked their way into the homes of the women, fiscal depute Saima Rasheed said.
John McPhee, who admitted three of the four charges, told one woman a tree needed trimmed and, as she was expecting her gardener to arrive, she allowed him into her house.
Another frail woman, aged 93, who is partially blind and can only make out shapes and colours,was conned into letting Evelyn McPhee into her house in Byron Street on the pretext that her car had broken down and she needed to call her insurance company. John McPhee also told a 77-year-old woman at Caird Terrace he was interested in an armchair in her garden.
Sheriff Alastair Carmichael told the accused the offences were of "the worst order of dishonesty".
He said: "You targeted and preyed on elderly members of society and took advantage of their good nature and in some cases their vulnerability. You have both got bad records and a custodial sentence is inevitable."
He said the courts and the public wanted to protect elderly citizens and told them: "The Dundee community is disgusted at what you have done."
John McPhee admitted that on May 1, at Caird Terrace, he stole a purse containing £15 and bank cards. He further admitted stealing purses, a bank card and money from Glenesk Avenue on May 7, and on May 8, at St James Court, Tannadice Street, he stole purses, a post office card and £52. Evelyn McPhee admitted stealing £60 in cash on May 6 from a house at Byron Street.
Evelyn McPhee was jailed for seven months to run from when her current sentence finishes on January 14.
John McPhee was ordered to return to prison to serve the unexpired portion of his previous sentence – four months – and sentenced to a further 32 months following that.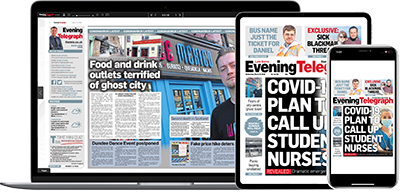 Help support quality local journalism … become a digital subscriber to the Evening Telegraph
For as little as £5.99 a month you can access all of our content, including Premium articles.
Subscribe