Dundee Ice Skating Club chief Simon Briggs says the club are prepared both physically and mentally for the 2018/2019 British Figure Skating Championships.
Coach Briggs and his fellow-coach and wife Debi have taken a 10-strong cohort to the tournament, which started on Monday in Sheffield, hoping to defend current titles and come away with some new ones.
The Dundee squad that headed to iceSheffield includes defending Senior Ladies champion Natasha McKay and her fellow-Seniors Danielle Harrison, Katie Powell and Karly Robertson.
Harrison and Robertson have finished on the podium behind McKay in recent years.
Robertson took silver in 2016/2017 and 2017/18, while Harrison claimed bronze last time out.
Robertson, too, has won gold in 2014/2015 with Harrison taking the crown the following year.
Anastasia Vaipan-Law will skate in the Junior section while Lucy Hay, Poppy Ashton, Emily Dale, Jasmine Cressey and Kyle McLeod have also travelled down to compete in the week-long event.
Briggs is hopeful his skaters can come away with yet more impressive results and performances but knows they need the right mentality to succeed.
Briggs said: "We have four of our ladies in the seniors and they all have great pedigree from past championships.
"It's great for us to have four of the 11 competing in the Seniors from Dundee but they know what they need to do to be in the mix for medals and podium places.
"If they do well in the short program on Saturday then they can still be in with a shout come the free program on Sunday.
"We always say you can't win the championships on the short program but you can lose it.
"They will need to be in there for the last day to stand a chance but they are all experienced and know that.
"They are prepared physically but they'll need to have a good mental approach as well."
Former Team GB coach Briggs knows his top talent have the ability to get the job done and insists, when they need to draw on past experience, the likes of Harrison, McKay and Robertson have seen it all before.
He added: "All that pedigree and experience will stand them in good stead.
"The fact they have done it all before and they have faced every scenario before means they can call on past experiences to see them through."
Prior to heading down south many of Briggs' skaters have been in action in continental Europe. McKay and Robertson skated in Latvia and Austria while youngster Vaipan-Law also competed in Austria.
And Briggs believes that hectic schedule will benefit his squad in the long run.
"The international scores combined with the national scores are what gets them in contention for competitions like this," he added.
"Ana is battling hard in the Junior section and we have high hopes for her achieving her goals.
"We have others hoping to do well in the basic, intermediate and advanced novice sections, too, so it will be a busy week."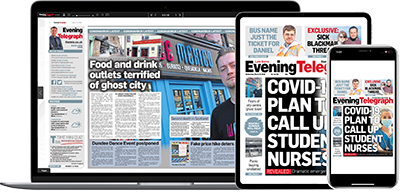 Help support quality local journalism … become a digital subscriber to the Evening Telegraph
Subscribe