NHS Tayside should brace itself for an exodus of foreign workers as a result of Brexit, health bosses have said in a new report.
The heads of Tayside's staff governance committee told the health board that there is a "high risk" of staff quitting before and after the UK leaves the European Union.
A report presented to the board said: "There is a high risk that we will lose staff in the run-up to and after Brexit.
"People may choose to leave because they are unsure of their future position in the country."
The health board has created a resilience group that will examine the "key concern" of recruiting workers after the UK leaves the EU in March.
The report concluded: "The consensus was that NHS Tayside should do all it can to reduce concerns and let those staff know that there will be support provided to achieve settlement.
"Consideration needs to be given to reducing anxiety in the ethnic members of staff, providing a supportive process to help and maintain stability in the workforce."
NHS Scotland does not publish data on the nationalities of staff.
However, an average of 5.6% of staff working across the NHS in England are from EU countries.
According to the most recent figures, more than 11,000 people are employed by NHS Tayside.
Any deal negotiated by the UK Government with the EU will be "crucial" to healthcare, according to Norman Provan, associate director of employment relations at the Royal College of Nursing Scotland.
He said: "Scotland, like the rest of the UK, depends on the contribution of EU nationals working in health and social care.
"Scotland must be able to continue to attract and retain the highly skilled nursing workforce needed to provide safe, high quality care to people across Scotland.
"The settlement that the UK Government negotiates is crucial for the health and care sector.
"If the flow of nursing staff stops, this could cause a major problem for staffing in the NHS and other health and social care organisations.
"The impact of Brexit on the nursing workforce must be carefully considered to protect an already overstretched health service."
A spokesman for the Department for Exiting the European Union declined to comment.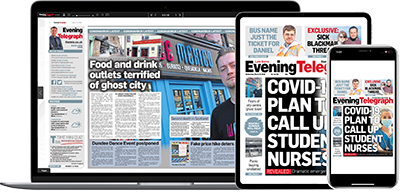 Help support quality local journalism … become a digital subscriber to the Evening Telegraph
For as little as £5.99 a month you can access all of our content, including Premium articles.
Subscribe