Thirteen brave ladies are taking part in a Calendar Girls-style photo shoot to raise money for Cancer Research UK.
The women have spent the last few months posing for pictures – with props strategically placed – to help in the fight against the illness which has affected them all in one way or another.
Some of the props include cushions, boxing gloves, blankets, bowling balls and an umbrella.
Organiser of the calendar is Shirene Smith, 48, from Charleston.
She was diagnosed with breast cancer as well as secondary cancer in her pelvis in June 2015.

Joining her for the cause are Ally Quinn, Anne McQuade, Claire Docherty, Gina Stapleton, Jacki Hughes, Joan Dyer, Leanda Innes, Leanda Quinn, Lyndi Robb, Roberta Drummond, Susan-Jayne Christie, and Tracey Duncan.
The images have been shot by photographer Lindsey Philip and the cost of printing was covered by various sponsors.
Shirene said: "Lindsey has been amazing. I want to go back and do it again."
The idea for the calendar came from Shirene's friend, Ally, who was inspired by the Real Full Monty ladies night this year.
It involved celebrities including Coleen Nolan, Sally Deter, Michelle Heaton and more re- creating the iconic dance to raise awareness of breast cancer.
Shirene, who took part in the Strictly Come Prancing competition on Saturday and has just been made chairwoman of the Dundee Relay for Life group, said: "It has been brilliant. I am dead chuffed with it.
"I'm going to fundraise for as long as I can.
"I want to help so that eventually there is a cure for every cancer.
"It is something that is meaningful to me."
Joan Dyer, 60, from St Mary's, has been friends with Shirene for several years and is also a committee member of the Relay for Life Dundee.
She said: "Everybody is so excited about it. Cancer touches quite a few families."
Joan's husband, Bill, was also diagnosed with cancer this year. The couple have been married for 40 years.
Joan added: "We have been on a rollercoaster since March.
"Shirene gave me lots of support, every time I needed an ear.
"I am over the moon with the pictures. We are so thankful for everyone coming together to sponsor us.
"Hopefully, the money that we make off the calender, can all be ploughed into Cancer Research UK.
"I am thrilled to be a part of it."
Gina Stapleton, 51, from Kirriemuir, heard about the idea through a colleague from work and decided to get involved.
She said: "I've lost so many people to cancer. It has affected me personally.
"My first husband died of cancer and my second husband and sister also died of the illness last year.
"I really enjoyed taking part and I've made lot of friends. It has been fun. I could see me doing it again,
"If we sold all 200 calendars that would be amazing. It would be brilliant."
The calendars, which should be ready by the end of the week, will be available for £10 each and all money will go to Cancer Research UK.
Anyone wishing to buy one can get in contact with the girls via Facebook.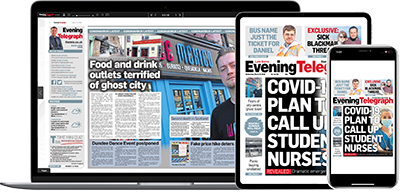 Help support quality local journalism … become a digital subscriber to the Evening Telegraph
For as little as £5.99 a month you can access all of our content, including Premium articles.
Subscribe