Staff and pupils are starting to find their feet in new surroundings almost a month after a ferocious fire devastated their school.
Teachers and pupils from Braeview Academy were thrown together with peers from Craigie High and Baldragon Academy after the blaze that badly damaged the Whitfield school on September 11.
Before the school holidays the Tele visited Craigie High, where S3 to S6 pupils from Braeview have been continuing their education.
The council's education convener Stewart Hunter, along with director of children and families services Paul Clancy, also paid a visit to see how the two schools were getting on under one roof.
Pupils from both schools described how easily the two schools had come together and how new friendships were already forming.
Brandon Wilkinson, 17, who is in S6 at Braeview, said: "When we were first told we were to be coming here we thought it would be a bit challenging.
"Many of us had never been in the school here before and didn't know what to expect. However, it has worked out really well and we are making new friends.
"All the staff and teachers have worked so hard to ensure that the transition was as smooth as possible and the pupils at Braeview have been very welcoming and friendly.
"Senior pupils from Craigie have invited us to join them in their lounge at lunchtimes and that's been great."
Brandon said that among the challenges they faced was finding their way around the school.
He said: "It's laid out very differently to Braeview so we have had to learn to find our way around but the school has been really good and even put up signs for us."
Megan Bruce, 17, from Braeview said that some pupils had actually lost course work in the fire.
She said: "I lost Higher history course work so that has had to be done again. That's been among the challenges we have had to face that have been tricky."
Kayleigh Paleyk 17, from Craigie High, said that she was delighted at how welcoming pupils from her school had been to pupils from Braeview.
She said: "We have five values at Craigie that we often talk about – respect, honesty, determination, responsibility and equality.
"Up until now we have talked a lot about them but it's been great to see that we have actually been able to carry these out in challenging circumstances."
Megan agreed saying: "I would say that the Craigie pupils have lived by these values and made the move here as easy for us as they could have."
Craigie High head teacher Andrena Waghorn said: "Braeview head Lesley Elder and her staff have worked with us to make life straightforward for all the pupils.
"We're running our schools separately but sharing classrooms and equipment and we're confident pupils' education isn't suffering."
There will be no immediate change to where pupils will be taught after the holidays, with Baldragon continuing to host S1-2 pupils and Craigie High welcoming S3-S6 pupils.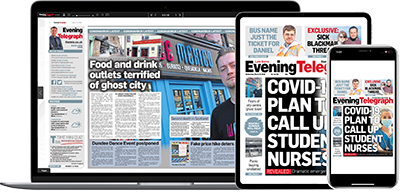 Help support quality local journalism … become a digital subscriber to the Evening Telegraph
For as little as £5.99 a month you can access all of our content, including Premium articles.
Subscribe