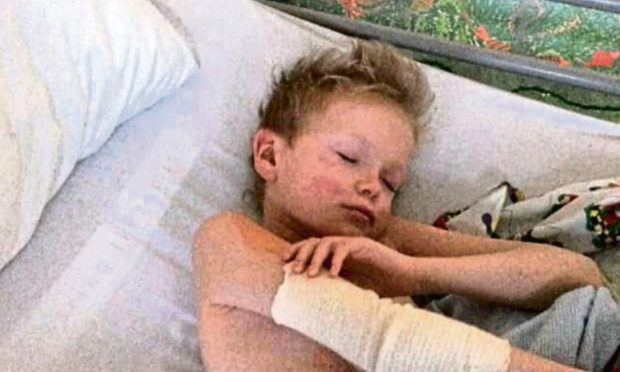 Doctors from NHS Tayside have apologised to a family after botching a disabled 12-year-old's feeding tube operation.
Ben Young underwent surgery at Ninewells Hospital to be fitted with a gastrojejunal tube, which connects to both the stomach and small intestine.
But he was whisked back into theatre less than 24 hours later after it was discovered surgeons had fitted the wrong equipment into his abdomen.
The Carnoustie High student, who has epilepsy, Asperger's syndrome and learning disabilities, was so distressed at the thought of going under anaesthetic again that his family say they had to help pin him down to be sedated on the ward before his second procedure.
Despite receiving a verbal apology from hospital staff, Ben's family have submitted an official complaint to the health board.
Ben's older sister Jade Ducat, 23, said: "He was in surgery for two and half hours, it wasn't until he got back on to ward 29 that my mother and nurses noticed that the procedure had been done incorrectly.
"They had only put the tube into his bowel and not his stomach, the correct tube was still sitting in the operating theatre when he had to go back the following day.
"We have been given a verbal apology and were told they have launched an official investigation.
"My brother was so distressed about what happened, we had to pin him down on the ward on Friday to administer another anaesthetic as he was terrified.
"He was saying he didn't want to die."
Jade, from Coldside, added: "I know a patient is always at risk when they go under an anaesthetic but there was no good reason that this had to happen. The right equipment had been in the theatre on Thursday.
"I'm appalled a mistake like this has been made."
Ben suffers from an undiagnosed gastro problem which requires him to be fed through a tube.
He is also unable to process waste and requires a ventilation tube in his small intestine, which is what Thursday's operation was meant to fit.
Jade added: "Ben is likely to be in hospital for the next few weeks or so.
"It had initially been thought he might have been suffering from Crohn's disease but there has been no confirmed diagnosis as to what is causing him to be unwell.
"My mother has been in contact with a specialist centre in Boston in the States to see if they can find out what is wrong."
Mum Sharon Ducat, 44, said: "You run a risk as a fit and healthy person going in for an operation – to put someone like Ben under that stress twice in less than 24 hours is unacceptable.
"It was Ben who pointed it out. When he came round they realised they had put the wrong tube in.
"When they tried to put him to sleep for the second operation he was hysterical. They had to give him the anaesthetic on the ward, not in the theatre.
"Some of the nurses were almost in tears watching him go through that, but it's not their fault.
"I don't want what happened to Ben to happen to anybody else. We've made an official complaint because we want it on record just how upset we are by this".
An NHS Tayside spokeswoman said: "Due to patient confidentiality, we are unable to comment on matters relating to individual patients.
"Our clinicians spoke with the family when they were in hospital to apologise.
"If the family would like to further discuss their concerns, we'd ask them to get in touch."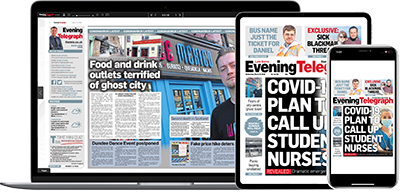 Help support quality local journalism … become a digital subscriber to the Evening Telegraph
For as little as £5.99 a month you can access all of our content, including Premium articles.
Subscribe