Official fireworks displays in Dundee tonight are not set to fizzle out despite a damp and dreary day.
Heavy rain in the early hours and thick cloud throughout the morning threatened to spoil the Bonfire night events at Lochee and Baxter Park, however the weather is set to hold out for tonight's shows.
There is around a 5% chance of rain and the cloud could break this afternoon with some sunshine coming through however it's likely to remain a fairly dull day.
Thousands are expected for the 7.15pm fireworks at both parks and revellers should be in for a mild night with temperatures around 9C – and they could be safe enough to leave the brolly at home.
A Met Office spokesman said: "Most of the rain across Scotland should clear by the evening.
"Looking at Dundee, there could be some patchy showers throughout the day.
"It will be cloudy but not enough to spoil the fireworks.
"It will also be on the mild side at about 9C – which is a little bit above average for this time of year."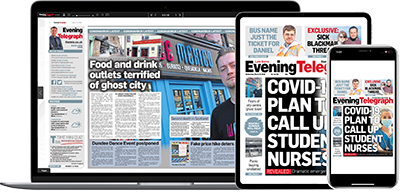 Help support quality local journalism … become a digital subscriber to the Evening Telegraph
For as little as £5.99 a month you can access all of our content, including Premium articles.
Subscribe