A beloved pet cat has been left badly injured after apparently being scalded with boiling water by an unknown attacker.
Elsa, a two-year-old ginger and white cat belonging to Charleston mum Louise Mills, suffered burns on her back, neck and above her eye.
Louise, 27, noticed on Sunday something was not quite right, and at first thought Elsa had been hit by a car.
She said: "She has gone really timid and quiet.
"She is usually very social.
"She normally comes down and plays with the kids but she's not.
"It's like she has gone into a little shell.
"We originally thought she had been hit by a car but when the vet checked there was no sign of trauma to her paws."
Louise was told somebody might have thrown boiling water over her pet.
Lousie added: "It is disgusting that someone could do that.
"How can they live with themselves? She's a defenceless little animal.
"The wound at the bottom of her back is quite bad.
"There is a big chunk of her fur missing, it's quite raw and red, and it has started to scab over.
"We don't know where it happened or who did it."
Elsa was a Christmas present for Louise's two sons Noah, 3, and Bailey, 1.
They also have another cat called Anna.
Louise took Elsa to the Dundee PDSA pet hospital where she was given painkillers as well as a plastic cone collar to wear to stop her from licking her wounds.
The Animal Welfare Act 2006 states the penalties for committing an offence of cruelty to an animal can include a six-month prison sentence, a fine of up to £20,000 and a ban from owning animals.
A spokeswoman for Cats Protection said: "We were shocked to hear about this apparent act of cruelty.
"As a charity dedicated to cats and their welfare, it is very upsetting to imagine the suffering the cat must have gone through and the distress it must have caused her family.
"We would strongly urge anyone who witnesses an act of animal cruelty to contact the police or the Scottish SPCA on 03000 999 999."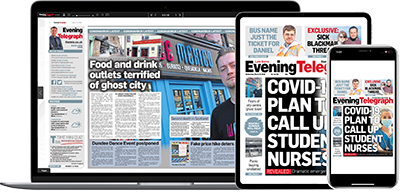 Help support quality local journalism … become a digital subscriber to the Evening Telegraph
Subscribe