The family of a man who took his own life after being turned away from the Carseview Centre have said an independent inquiry into the facility is "not enough", and renewed calls for a public investigation.
David Ramsay, 50, was turned away from Carseview despite repeated attempts to end his own life.
He was found dead days later in October 2016.
His niece, Gillian Murray, said she and other families, including relatives of Dale Thomson, were still seeking a public inquiry into the psychiatric unit at Ninewells Hospital, despite NHS Tayside commissioning an independent inquiry.
Mr Thomson took his life having earlier been assessed and released by Carseview.
The health board announced it was inviting senior independent clinical experts to examine mental health services at the Carseview Centre in Dundee.
They will speak to patients and staff and review progress on recommendations set out in recent reports by the Mental Welfare Commission and Healthcare Improvement Scotland.
Chairman John Brown said the report was to "address the concerns of some families who have been speaking out about their experiences of mental health services at the centre".
The announcement came a day after Labour leader Richard Leonard called for a public inquiry into Carseview during First Minister's Questions.
Gillian Murray was sceptical about NHS Tayside's announcement, saying: "We are still pushing for a public inquiry. We have cross-party support.
"The NHS claim they'll conduct an independent review but it's not enough. Past experience shows their so-called independent reports are not impartial.
"We and the other Dundee families will still push for a public inquiry with the support of other political parties. I was extremely frustrated at the lack of answers from the first minister.
"The Scottish Government needs to understand the mental health crisis in Dundee and surrounding areas will continue.
"We would ask the first minister to meet the many grieving families in Dundee who have lost a loved one due to NHS failings and see for herself that this is a crisis."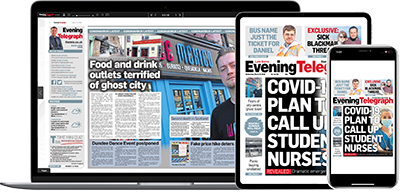 Help support quality local journalism … become a digital subscriber to the Evening Telegraph
Subscribe