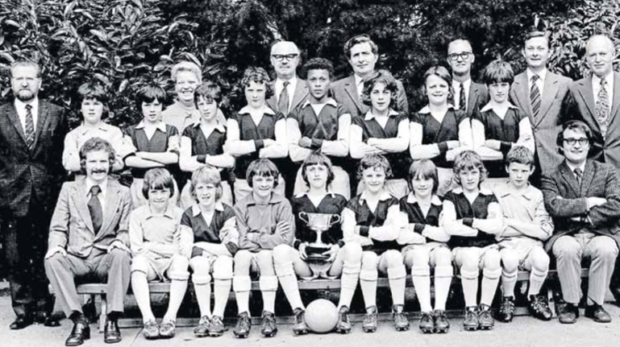 This is the Dundee Primary Schools Select from 1974.
Unfortunately, no names came with the photo.
Can you help? Also, what is the trophy they are proudly holding?
Meanwhile, there was interest from the other side of the world after the photo of Gowrie Boys Boxing Club at their Abbotsford Street premises appeared on May 9.
That came about after a reader sent a copy of the picture to John McCormack in Australia – a Dundonian who emigrated Down Under in 1968.
John, in turn, got in touch with me, saying: "My brother sent me the photograph, which featured John Kellie.
"I spent my teenage years with John before emigrating to Australia.
"In the late 1960s or around 1970, John visited me in Australia when he came out here to fight.
"The last time I saw him was when I was back in Scotland on holiday in 1973.
"I would like to get back in touch with him as I lost contact with him after the 70s."
If any reader has news of John Kellie, please get in touch.
After I asked for some info, John revealed his McCormack family lived on the Hilltown, and had a spell in Charles Street (off the Overgate) before settling in Ballindean Terrace in Douglas, when John was six.
Schooling for John including Cowgate PS and Glebelands PS.
John went on: "It was then on to Stobswell secondary school and I played football there with Peter Lorimer.
"I left home and joined the army at 17 years of age.
"I hung around with John Kellie and another boxer from Govan in Glasgow called Hugh Baxter.
"I did some sparring with them and other things but was not interested in pursuing a boxing career."
John is now retired after being at the helm of a successful real estate business for over 30 years, which his son now runs.
On the sporting front, John revealed: "I played semi professional football in New South Wales and coached in the state league for a bit while living in Tamworth NSW.
"I have been living on the wonderful Gold Coast in Queensland since 1989, where the last Commonwealth Games were held.
"I played over 35s, 45s and 55s football before retiring five years ago.
"I now fill my time in by taking my half-cabin cruiser out on our wonderful broadwater, and playing that frustrating game they call golf.
"All my family – brother, sister, cousins, nieces and nephews – still reside in Dundee."
---
Few boys, few beers and a bit of banter – the perfect ingredients for any football team, you may be entitled to think?
However, not in the case with the Chilean U/20 side in 2002.
The boys were all in hysterical laughter at a joke cracked by one of the players, only for the manager to complain to the Chilean FA that he had lost control and authority at the incident.
The reaction of the Chile FA – fine every single player for 'laughing'.
---
Dunc Erskine, a good friend of this column over the years, responded to a Rob Boag story.
On February 29, Rob relayed the tale of "Tiddler" Forbes, a mercurial 'tanner ba' player from times gone by.
"I was surprised to see his nickname was Tiddler," said Dunc, a former junior footballer with teams such as Elmwood, Carnoustie, Harp and Downfield.
"I always knew him as Poodle. However, I don't have a clue what his real first name was."
This query was answered last week when Jim Skelly, a relation of Tiddler, responded to Rob's original tale.
Jim stated Tiddler was also known as Poddle (perhaps pronounced Poodle), and that his first name was Wullie.
---
Dundee fan Brian Scott, of Menzieshill, Dundee, asked me for attendances at testimonial games at Dens Park.
Actually, when I say "asked", Brian thrust a scribbled-on beer mat into my hand as I was enjoying a sarsaparilla (pre-lockdown) in a Broughty Ferry hostelry.
On Brian's list were…
Peter Lorimer – Dundee XI 2 Leeds United XI 3, on April 17, 1978, attendance 7,908.
Ally Donaldson – Dundee 4 Dundee United 4, on May 4, attendance 4,847.
Jocky Scott – Dundee 0 Aberdeen 0, on May 3, 1981, attendance 4,000.
Bobby Glennie – Dundee 2 Manchester City 2, on May 6, 1986, attendance 3,000.
George McGeachie – Dundee 0 Liverpool 4, on November 19, 1987, attendance 14,463.
Bobby Geddes – Dundee 1 Liverpool 3, on February 12, 1989, attendance 9,311.
Dave Bowman – Dundee United 2 Dundee 1, on August 6, 1995, attendance 4,879.
---
After reading our May 2 story on Karl-Heinz Rummenigge playing in Lochee, Andy Walker likened the tale to one he'd heard previously.
He offered: "On your pages recently, the subject was of a future world-class player playing on Thomson Park, Lochee, Dundee – Rummenigge of Germany.
"This brought to mind the night I walked into the Tay Bridge Bar on Perth Road, Dundee, and met four stalwarts of the Dundee Violet JFC committee.
"Immediately, I was asked, name the two World Cup winners to play on Violet's pitch, Glenesk Park?
"I was unable to answer and, after a bout of teasing, the answer given was Lionel Charbonnier and Stephane Guivarc'h of France.
"The game they played in was a Dundee v Rangers reserve match."
Striker Guivarc'h played in the final as France beat Brazil 3-0 in 1998 but keeper Charbonnier was only a squad player and never featured in any of the games.
---
It's 20 years ago and Dundee FC's Dens Park is the venue for the Dundee Primary School's penalty shoot-out final between Gowriehill Primary School (front) and Longhaugh Primary School.
BLETHER: Tiddler Forbes, the Jimmy McGrory connection and Karl-Heinz Rummenigge in Lochee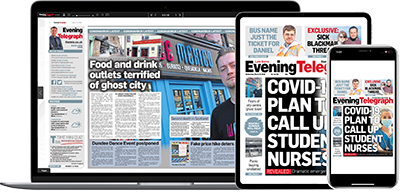 Help support quality local journalism … become a digital subscriber to the Evening Telegraph
Subscribe