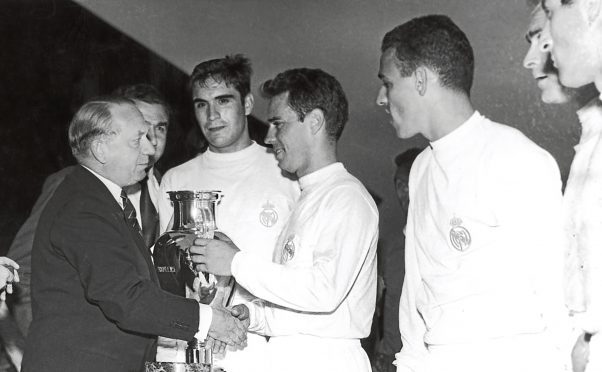 For people of a certain age, there is one stand-out game in the history of football which stirs many emotions.
This prompted our resident Vancouver correspondent Rob Boag to reminisce.
He opened: "May 18, 1960, was a Wednesday and, approaching 7.30pm that evening, a group of lads in one of Catterick's Army Camp billets, with great sensitivity, coaxed a transistor radio away from hissing and static till we found a voice.
"We agreed the strongest signal came when the radio faced north and a wee bit to the left.
"And so, very carefully, it was placed on the centre of a table in the middle of the billet.
"We sat on our steel-frame beds, and stared and strained at the tinny sounding BBC announcer, from Hampden Park with a crowd of over 120,000 fans, tell us the team line-ups.
"It was the Spanish names that sounded exotic on the tongue.
"Names like Santa Maria, Di Stefano, Canario, Gento — and then a Hungarian by the name of Puskas.
"The game was the European Cup Final, Real Madrid v Eintracht Frankfurt, possibly the greatest game of 'fitba' ever played on Scottish soil — and it kicked off.
"The transistor faded, it spat out a burst of morse, then, with a gentle tap, it honed back to Hampden.
"We marvelled at the announcer's description of play and roared when goals were scored — all 10 of them. The final score — Real Madrid 7 Eintracht 3."
Rob continued: "Several weeks later, an enterprising officer got his hands on a film of the game.
"A projector was set up in the NAAFI and spools of film ran through it.
"We saw faces to the names, we saw moments of magic and moments of brilliance from both teams.
"That memory was dredged up while recently watching the entertaining Real Madrid v Juventus final on Saturday, June 3.
"Probably because I had been following the celebrations of Celtic's Lisbon anniversary, I began mentally exploring that decade of football, the 1960s. Apart from the majesty of Celtic and Real Madrid, managers by the name of Bob Shankly and Bobby Ancell took Dundee FC and their fans on a European adventure.
"Across the road, Jerry Kerr and his Scandinavians were also playing at European level, and Law, Baxter, Crerand etc., were our heroes.
"A Scot by the name of Matt Busby lifted the European Cup in 1968, the season after his friend Jock Stein won it.
"England won the World Cup and names like Pele became part of our football vocabulary.
"The 1960s was, without any doubt, the golden decade of football. Never before or since have we witnessed 10 years of such consistent football glory."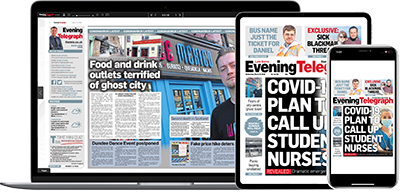 Help support quality local journalism … become a digital subscriber to the Evening Telegraph
For as little as £5.99 a month you can access all of our content, including Premium articles.
Subscribe