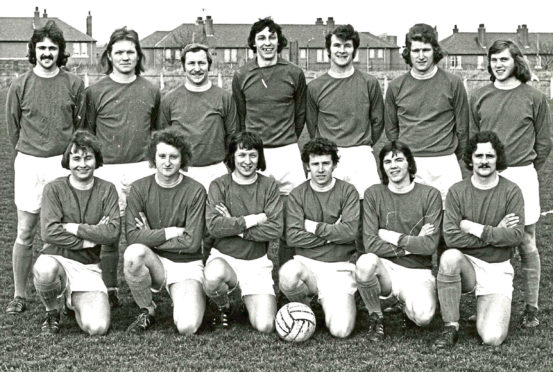 The Blairgowrie Junior FC photograph from November 3 didn't feature the season in which it was taken.
However, that was soon remedied by one of The Berrypickers' most loyal sons.
Dennis Elder spent 16 seasons as a player at Davie Park, and he opened: "The photograph was taken in season 1958-59.
"As you mentioned, it was a Scottish Junior Cup tie against Dalry Thistle and Blairgowrie won the tie 2-0.
"The crowd at the game numbered 3,250 and that is probably the reason supporters were still trying to vacate the stand.
"There were just two exits – one at each end – and this is probably one of the reasons it was condemned after the Bradford disaster."
Blair next met Irvine Meadow in the quarter-finals.
Club records show that the Davie Park side sought to put on a special train to Ayrshire.
The rail company asked them for a guarantee that 300 supporters would travel on the 'special'.
Over 700 crammed on to the train and it had to stop at Coupar Angus to re-stock the bar!
It was the last passenger train ever to leave Blairgowrie.
The Blairgowrie Advertiser commented: "As the train passed through Rosemount, Coupar Angus and the stations en route to Perth, groups of people waved and smiled.
"These salutations made the passengers feel they were travelling on a Royal train!
"Similar greetings came from people at houses in the vicinity of the railway, farm workers in the fields, lorry drivers on the road and others.
"A placard, made by two girls, was stuck on a carriage window, stating: 'We have trampled two Thistle (Bathgate and Dalry) . . . now we will mow the Meadow!"
A massive crowd of 9,400 crammed into Meadow Park to see the teams draw 2-2, with the hosts grabbing a late leveller.
Blair lined up – Kenny Dick; Jack Birrell, Chic Henderson; Tommy Hay, Harry Logan (captain), Willie Ritchie; Jimmy Sunter, Chic Davie, Stewart Wightman, Bob McKillop, Martin Duffy.
McKillop and Duffy were the scorers.
The replay the following week was also well attended with "no space to be had inside the tight Davie Park".
Over 5,200 attended – beating the previous ground record of 4,600 – and the gate receipts were £250.
Adults paid one shilling (five pence), with children admitted for sixpence (two-and-a-half pence).
The Perthshire Junior FA cancelled all league games, so there was no opposition to this Scottish Junior Cup tie.
Blair went down 2-0 early in the game and there was no coming back from that, with Meadow running out 5-1 winners.
Irvine Meadow went on to win the competition, beating Shettleston 2-1 at Hampden Park.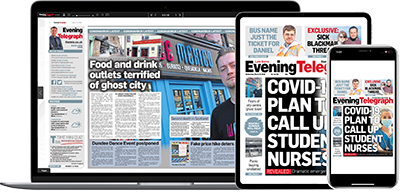 Help support quality local journalism … become a digital subscriber to the Evening Telegraph
For as little as £5.99 a month you can access all of our content, including Premium articles.
Subscribe