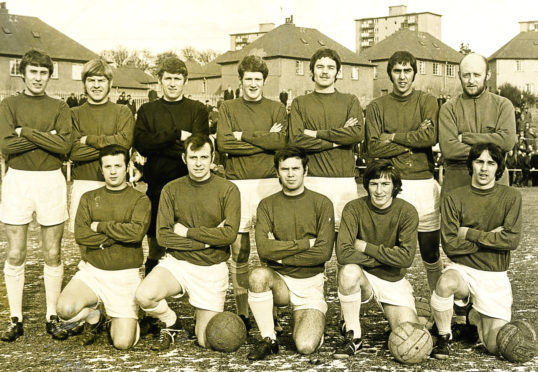 A night out for Rabbie Ogg was interrupted by a phone call from a family member.
Rabbie takes up the story: "While enjoying a small refreshment in my local one Saturday evening, I got a call from my mother asking if I had seen my picture in the 'Tully'.
"She was referring to the photo of Broughty Athletic, which was featured recently."
In the article, I had queried the date on the photo, but Rabbie seemed to think it was near enough what was on the caption.
He then continued: "I think the date was probably not far off as this team won the league that year at the first time of asking after being relegated the previous season.
"This side had a reputation for being a bit of a party team, with characters such as Jimmy Gowans, Ian Kirkcaldy, Ross Sutherland and a few others knowing how to enjoy themselves on a Saturday night.
"I was on loan at time from Forfar Athletic and am 19 years old at time of photo, but had played for Broughty from the age of 16.
"Unfortunately for me, I was unlucky not to play a single game that season due to torn ACL the previous campaign.
"In fact, I never returned to playing until one week before my 21st birthday, despite surgeon telling me I would never play football again!
"I did, however, get a league-winning medal and the Clubman of the Year award.
"Happy days."
Coincidentally, Jimmy Gowans was mentioned again in a different response from Dek Stewart.
Said Dek: "I often nip into the Old Bank on a Friday afternoon for a couple of pints.
"There is always the same table with a few old football team-mates or adversaries.
"Stan McAnearney who was in my class at school, is usually holding court.
"Jimmy Gowans, Billy Gowans, Geordie 'Podger' Anderson and Ian Cook are usually there, alongside one of the regular contributors to your column, Andy Walker.
"One week, we got on to the subject about how long Jimmy Gowans had played in the Dundee Junior League.
"He signed for Lochee United aged 17 and finished playing with Broughty Athletic at 40, making it 22 consecutive seasons in the Dundee Junior League.
"He also played for North End, Downfield, St Joseph's and Violet.
"We were wondering if this was a record, or does anyone know of any player who can beat this?
"Jimmy has also been inaugurated into the Lochee United and North End Halls of Fame.
"Quite an achievement."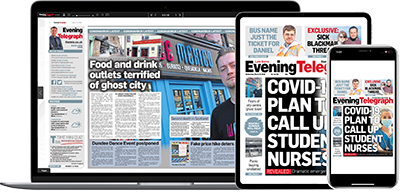 Help support quality local journalism … become a digital subscriber to the Evening Telegraph
For as little as £5.99 a month you can access all of our content, including Premium articles.
Subscribe