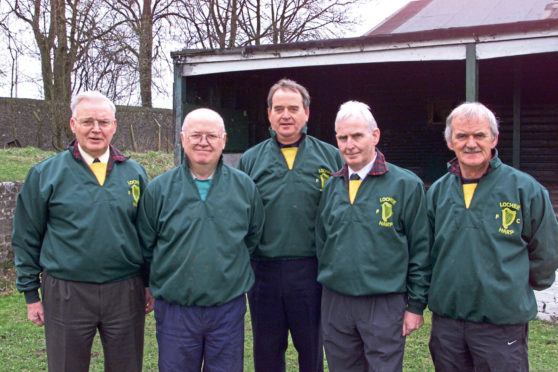 The famous Beechwood Park is no more.
Lochee Harp open their new ground this season, situated on the other side of King's Cross Road from their original home.
All concerned with this grand old club will be looking forward to their new adventure – and our resident Lochee thespian Andy Walker is excited about this, too.
He opened: "At a Dundee council meeting in 1920, Alexander 'Sandy' Aimer stood up and demanded a football ground be built in the Lochee area for any team.
"He kept this issue to the forefront of his career – and it eventually paid off. It took a while, but Beechwood Park was officially opened on April 26, 1941, and Lochee Harp were the tenants.
"Harp ran out in their colours of green jersey and black shorts to play against a Hibs-Hearts select managed by Willie McArtney. The match finished 8-2 to Harp."
Andy confirmed that Aimer Square in Lochee is named after Sandy.
Furthermore, where the Dee Club in Taylor Street is currently situated, this was at one time The Aimer Hall.
As Andy went on, a soon-to-be famous name in this city emerged: "The talking point was all about right-winger Gordon Smith, who ran amok.
"He scored five goals and, in doing so, absolutely destroyed Baxter of Hibs."
Smith, of course, would go on to sign for Hibs and become part of the legendary Famous Five alongside Bobby Johnstone, Eddie Turnbull, Lawrie Reilly and Willie Ormond.
He would move to Hearts, and then to Dundee.
History now shows he is the only player to win three top Scottish league titles with three different clubs.
And, of course, starred as Dundee breezed their way to the European Cup semi-finals in season 1962-63.
Returning to the Beechwood Park encounter, Andy continued: "In the crowd that day was avid Harp supporter, Frank Duffy.
"Frank travelled all over Dundee to watch this junior team at various venues – Riverside, Lochee Park and Fairmuir Park to name but a few.
"In tow, as usual, was his son John.
"He remembers the buzz of that occasion.
"As they left their house that day in Mitchell Street, a new journey emerged that would take them up Gardner Street, across Loons Road, and up on to the 'Miley'. The 'Miley' was an unused trail that ran parallel with Kings Cross Road right to the new venue.
"John, nicknamed Jackie', was Harp daft, and hardly missed a game.
"Indeed, his dream was to play for them, but this never happened.
"He signed for St Joseph's and his first cup final was against – yes – his beloved Harp.
"It was the 1951 Courier Cup and they lost 3-1.
"Shortly after, he was called up and joined the RAF, and it was during his National Service that a horrific accident saw him lie 18 months on his back.
"When he recovered, he joined Lochee Hibs, and went on to captain the side.
"He stayed with Hibs for many years right up until they folded.
"Jackie reverted back to watching Harp, then accepted an invitation to assist with Celtic Boys Club in the emerging Dundee Sunday Boys League – a post he enjoyed for many years.
"This meant he could still watch Harp on Saturdays.
"And, of course, he helped Celtic Boys win many trophies."
Andy concluded: "In football, we hear about records, but surely a fan who was at the opening and closing of a ground during a span of 75 years must surely be unique?
"Not only that, but, God willing, he will be at the new ground."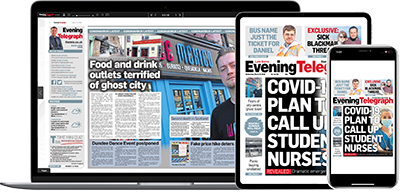 Help support quality local journalism … become a digital subscriber to the Evening Telegraph
Subscribe