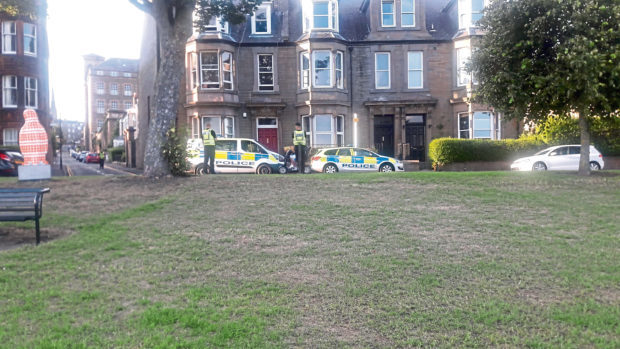 A man on a mobility scooter was arrested after reports of a break-in to a building in the West End.
Officers stopped the man as part of a probe into an incident on Magdalen Yard.
Three officers were seen questioning him on Magdalen Yard Road, near Shepherds Loan, while he sat on the scooter.
It's unclear whether the machine belonged to him but one onlooker described the incident as "bizarre".
Officers spent at least half an hour in the area carrying out door-to-door inquiries.
A spokeswoman for Police Scotland confirmed two men were arrested.
The witness said officers spent some time quizzing the man while others knocked on doors nearby.
He said: "I had just been going to get a picture taken with the Maggie's penguin.
"There were three officers beside the penguin at Magdalen Green near the bandstand.
"I saw the officer questioning this guy in a mobility scooter.
"Initially I thought he might have been the victim of a crime. After walking past I realised this guy might have been the one in trouble.
"As they were speaking to him I saw one of the officers wearing plastic gloves.
"The whole situation was just a wee bit bizarre.
"Two of the officers appeared to be making sure this guy was going nowhere.
"The other officer went and conducted some inquiries on Shepherds Loan.
"The guy on the scooter looked anxious when the police were questioning him.
"I never saw any residents outside of any of the neighbouring buildings so it was unclear where exactly this person had come from.
"It's a bit of surprise to see the police in the area as it is usually so quiet."
A spokeswoman for Police Scotland said: "Two men aged 48 and 38 were arrested for being within a building with intent to commit a theft at Magdalen Yard on Friday evening."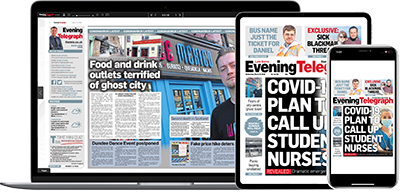 Help support quality local journalism … become a digital subscriber to the Evening Telegraph
Subscribe