A 65-year-old man has been charged with vandalism and threatening behaviour following a "bizarre" incident in St Mary's.
Local young people had been working on a mural at the community centre on St Kilda Road before a pot of red paint was thrown at the design.
Alice Bovill, 74, chairwoman of the centre, said a graffiti artist had been co-ordinating the project for three weeks. The youngsters had been about to begin colouring in the mural when red paint was thrown over a fence on to the wall.
Alice said that since the centre opened its doors in 2008 there had never been any deliberate vandalism at the premises.
She said: "I'm certainly very angry to hear what has happened.
"The graffiti artist and a group of young people were working on the mural at the time when it happened.
"Work on this project had been started about three weeks previously.
"There were discussions about the design and the mapping process for it was under way.
"They were just about to start colouring it when this happened.
"I wasn't there myself but I understand they were petrified by what happened.
"The clean-up process has started now.
"Given the age of the person alleged to have been involved in this incident it is certainly a very bizarre thing to have happened."
A spokesman for the force said: "Police Scotland can confirm that, following an incident at St Mary's Community Centre, around 6.10pm on Monday, a 65-year-old man was charged with vandalism and threatening and abusive behaviour.
"He is to be reported to the procurator fiscal in due course."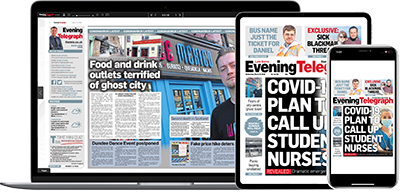 Help support quality local journalism … become a digital subscriber to the Evening Telegraph
For as little as £5.99 a month you can access all of our content, including Premium articles.
Subscribe