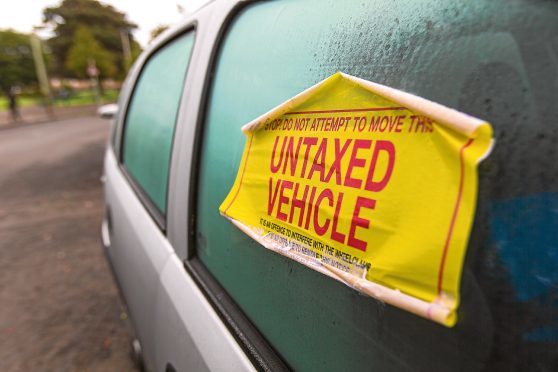 The number of cars impounded or clamped by the DVLA over owners' failure to pay road tax has risen by 75% so far this year, new information shows.
Figures provided to the Tele by the government body show that a total of 219 vehicles were clamped between April and October this year in DD postcode areas.
The figures are equivalent to one car being clamped every day.
In comparison, 125 cars were clamped in 2016/17 — or one every three days — and there are still five months left in the financial year, meaning more are likely to be clamped before the year is out.
A spokesman for the DVLA said the cars were clamped as part of "day-to-day enforcement" rather than as part of a particular initiative.
He said: "We write to the keepers of all vehicles to remind them when their tax is due. That's why it's so important to let DVLA know if you've changed your address.
"We don't need to spot a vehicle on the road to take enforcement action, but if we do, wheel clamping is an effective way to make sure that an untaxed vehicle is not driven on the road.
"It's never been easier to tax your car — it's just a few clicks to do it online and you can do it 24 hours a day.
"You can also spread payments across the year by direct debit, so there really is no excuse.
"We would rather not have to clamp or remove vehicles, but we do need people to understand the consequences of not taxing a vehicle.
"Having your vehicle clamped is expensive and inconvenient.
"Don't take the risk — it just isn't worth it."
In Dundee itself, 161 vehicles have been clamped or impounded since April as a result of owners failing to pay tax.
Another 50 in the city have been clamped or impounded for being on the road while legally declared "off-road" via a statutory off-road notice (SORN).
The DD3 area, which covers St Mary's, Downfield, Kirkton, Strathmartine, Coldside and the Hilltown, recorded the most cars clamped, with a total of 66 so far this year across both untaxed and legally off-road cars found on public roads.
Elsewhere, seven cars have been seized in Newport and Tayport and one car was clamped in Brechin for a failure to pay tax.