The family members of a blind pensioner who has paid thousands of pounds in so-called shower tax are demanding their money back.
Hundreds of readers have been in touch since the Tele launched its campaign demanding an end to the controversial charge.
Last week the Tele revealed that Charlotte Myles, 90, had a shower fitted at her home in Dryburgh at the request of her occupational therapist in 2010.
Fury as blind Dundee OAP, 90, charged £4,000 just to use her OWN shower
Her grandson David said she has been charged £10 per week since its installation, and estimated she had paid out at least £4,000 in that time.
In response, Dundee City Council leader John Alexander said the charge did not apply to those with health problems who had the showers fitted through occupational therapy services. David has said he is planning to seek legal advice to claim the money back.
He said: "Council leader John Alexander has said publicly that those with health issues can apply for showers through occupational therapy services without this charge.
"In that case my grandmother shouldn't be paying this shower tax. If what Mr Alexander says is correct then my gran should not be paying this charge as it was definitely recommended by occupational therapy that she needed a walk-in shower and it was installed after they intervened.
"I have been trying to get the council to confirm this is the situation.
"I plan to speak to my solicitor regarding this situation with a view to claiming some, if not all, of the money my gran has paid over the past nine years.
"She has been paying this money for all this time when it would appear that she shouldn't have had to."
Charlie Malone, Labour councillor for Lochee said: "I'm aware of this case and will be investigating what the situation is.
"I've been made aware of other individual cases like this happening and will be asking council officers what the situation is."
A spokesman for Dundee City Council said: "We are looking into this."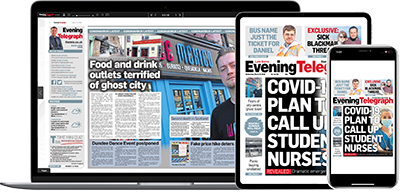 Help support quality local journalism … become a digital subscriber to the Evening Telegraph
Subscribe