Dundee City Council may have pocketed as much as £6 million from charging residents up to £10 a week for having a shower.
We continue with our campaign calling on the council to abolish the so-called shower tax paid by around 2,000 residents every week.
TELE CAMPAIGN: This is why we need to axe Dundee's shower tax
The Tele revealed last week that OAPs are among council tenants who are still paying for shower facilities installed in council homes in 2007.
Some who are paying £10 a week have dished out more than £6,000 in that time.
With the council raking in £500,000 a year from the charge, it means the authority could have made as much as £6m from the fee in the 12 years since the showers were installed.
Some residents have now come forward claiming they were forced to pay the fee even after asking the council to have the showers removed.
Morag McGrattan, 57, from Maryfield, said: "My shower was already in the property when I viewed it eight years ago.
"When told that it would cost me £5 per week on top of rent, I asked them to remove it but was told that could not be done. I was told the cost was for maintenance.
"I expressed my displeasure and was told that if I didn't want to pay, I should turn down the offer of the house.
"I wrote to housing with my complaint when I moved into the house and after escalating my complaint up the chain, I got a reply that the charge stood and again stated that the cost was for installation and maintenance.
"Over the past 11 years the shower has cost me £2,800.
"I'm delighted to back the Tele's campaign to get this ridiculous charge scrapped."
Dorothy McHugh, secretary of Dundee Pensioners Forum, said that as the money was paid into the council's Housing Revenue Account it would have been used to offset rental costs.
She said: "This effectively means that tenants paying this shower service are subsiding rental costs for all council house tenants in the city.
"This is shocking and further strengthens our call to have this charge abolished.
"We are delighted that the Evening Telegraph has joined our fight and has begun its own campaign to get this outrageous charge abolished."
The charge came to light after the council consulted tenants on this year's proposed rent increase.
Had tenants opted for higher rent increases, the shower charge would have been phased out.
Instead, tenants voted for a 3.75% rise, meaning the charge would remain.
Meantime, two more council tenants have condemned the charge.
William Smith, 62, who stays in sheltered housing in Greendykes Road, said £5 a week had been taken off his housing benefit every week for the past four years for the shower charge.
He said: "That means I have paid more than £1,000 already.
"I need to have a shower because of my disability because I can't get into a bath.
"This is just a way for the council to get more money out of people.
"Having a shower should be a right not a luxury that has to be paid extra for.
"I think this charge is a complete rip-off and am happy to back the campaign to have it abolished."
Labour councillor Richard McCready said: "Councillors of all parties are in agreement this is a charge we would like to see the back of."
Even council leader John Alexander said he would like to remove the charge – but argued the decision lay with tenants (see side panel).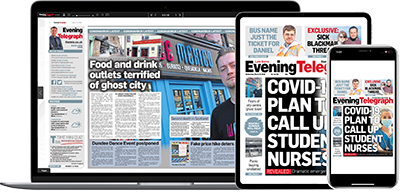 Help support quality local journalism … become a digital subscriber to the Evening Telegraph
Subscribe