Beijing, Montreal, Turin, Seoul, Helsinki and Buenos Aires – Dundee has enviable stablemates that are also Unesco Cities of Design.
So why, when presented with some of the world's most awe-inspiring destinations, did an Austrian woman decide she would rather see the City of Discovery?
Sonja Schwaighofer, 30, is a web designer and marketer from one of the other 19 cities of design – Graz.
She came to Dundee thanks to a Unesco scheme called COD100 which aims to encourage collaboration between the 19 officially designated cities of design.
The city of Graz is covering her travel, accommodation and living expenses for 100 days – on condition that she really embraces what Dundee culture has to offer.
Two months later, she has given a talk to a crowd of 450 at the Rep – in English – enjoyed the Lochee fireworks and toured 71 Brewing. And that's just in the last fortnight.
So why did she choose Dundee? For Sonja, it was about a change of scenery and a chance to visit the UK.
"I had applied for Shenzen (in China), Helsinki and Dundee and later it was down to Helsinki and Dundee," she said.
"I decided on Dundee because I thought it was important to improve my English skills – and because I love the UK.
"I didn't know anything at all about Dundee and I wanted to explore Scotland.
"Plus, Dundee is at the seaside and Austria is landlocked so I wanted to go somewhere different. I've been to Broughty Ferry four times already."
Sonja has had the support of Leisure and Culture Dundee's Unesco City of Design team in getting set up in the city, pointing her in the direction of City Quay firm MTC so she could work with some local creatives.
As well as working there as a designer, she is continuing to work on projects with Austrian clients back home through her own business, Greatvibes.at.
In between work, she has also found time to make the most of her visit to Scotland, travelling to Edinburgh four times and St Andrews twice.
An MTC colleague even took her up to the Highlands to visit the Dalwhinnie Distillery and see the Glenfinnan viaduct, as featured in the Harry Potter films.
And, of course, she has visited the V&A. She's even picked up a trick or two from her Dundonian friends.
"I've been really surprised by the Scottish people," she said.
"Everyone here is so nice – it's so strange when you are in the bus station and people come up to you and talk to you.
"It's very different to how people are in Austria. I had to ask myself if this was how all Scottish people act and it turns out it is.
"My colleagues at MTC have been teaching me Scottish phrases – I've learned 'let's crack open a Tennent's with the lads'."
After a Hogmanay bash in Edinburgh with some friends from Graz, Sonja will be returning to Austria.
She's the first to admit she'll miss the city – but has promised to try that Dundee dietary staple, a helicopter burger from Clark's, before she goes.
She added: "Dundee has been a totally new situation for me but it has been a great choice."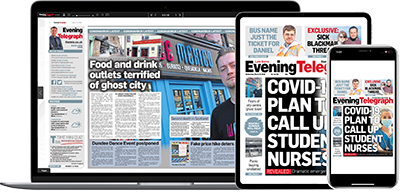 Help support quality local journalism … become a digital subscriber to the Evening Telegraph
For as little as £5.99 a month you can access all of our content, including Premium articles.
Subscribe