Dundee's planning chief has given an assurance that the new Marriott hotel on the city's Waterfront will not destabilise the local hotel industry.
Executive director of city development Mike Galloway made the pledge at a meeting of the council's planning development committee.
Members of the committee agreed that the 150-bedroom hotel can open on the Waterfront.
Mr Galloway said: "The city has been under-represented in terms of hotel bedrooms for many years.
"This has been an issue that we have been striving to address. We want people to come here for business and leisure tourism."
He said that the council would continue to monitor the hotel bedrooms that became available to ensure that too many bedrooms didn't destabilise the hotel industry
Councillor Ken Lynn said he welcomed the development.
He said: "Other European cities can accommodate many hotels in their centres.
"We want to reassure the public that there will not be too many hotels in Dundee."
Members of the committee agreed the council should enter into an agreement with Marriott to operate an upmarket hotel on site six at the Waterfront.
The development is expected to create around 120 jobs, plus another 260 construction jobs.
It is anticipated that the local authority will get a cut of the income generated by the development.
Assurances have been given that the hotel will pay its employees the Scottish living wage.
Council leader John Alexander said: "It's tremendous to see how the Waterfront is progressing.
"2018 is going to be a big year for Dundee."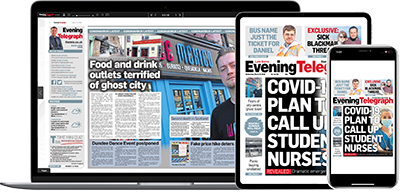 Help support quality local journalism … become a digital subscriber to the Evening Telegraph
Subscribe