A London artist is close to completing a huge aerial sketch of the city of Perth.
It is part of the Portrait of Britain project in which Carl Lavia is visiting and depicting 69 cities across the UK.
The 6ft illustration is at its midway point, with each drawing taking about three months to complete.
Carl started working on the project in 2016 with photographer Lorna Le Bredonchel.
He said: "There has been nothing of this scale that I have seen in the last 150 years. Right now it is in the middle of completion. I expect it to take a further four to six weeks.
"It will show the whole of Perth from the racecourse, to Scone Palace, to the city centre and the countryside with the surrounding areas.
"At the moment we are trying to draw some interest so the people of Perth can come and view it. The main thing for us is to have the people in the city get the chance to see it. Hopefully public space can be provided to do this.
"We aim to have several exhibitions to try and increase the number of people who can view it."
Despite Perth being one of the UK's smallest cities, the sketch is one of the biggest so far, although a similar drawing of Dundee, showcased in the city's art gallery, finished the same size.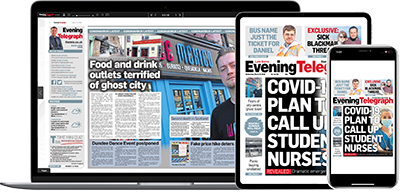 Help support quality local journalism … become a digital subscriber to the Evening Telegraph
Subscribe