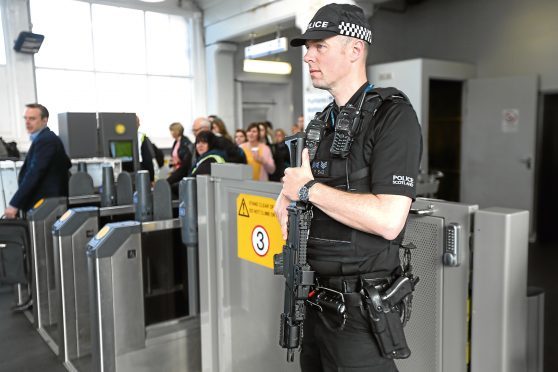 Armed police officers could be called out to routine matters such as road traffic and domestic incidents in Dundee within the next few weeks, the Tele can reveal.
The measure was announced to Dundee City councillors at a private session by Tayside Divisional Commander Paul Anderson, who is said to have described the move as "imminent".
Police Scotland also confirmed the issue would be discussed at a meeting of the Scottish Police Authority in Dundee next week, led by the authority's new chairwoman Susan Deacon.
But some Dundee councillors have warned the plan would fundamentally change the relationship between police officers and the people of Dundee and cause undue alarm.
The Tele has learned that the measure was revealed to councillors after members of the press and public were asked to leave a meeting of the council's community safety and public protection committee.
A police source told the Tele the move would allow armed officers to attend routine calls where there is an emphasis on public protection and safety and the speed of response was crucial.
While armed police have more of a public presence due to the increased terror threat, they currently only respond to major incidents.
Police Scotland told the Tele an announcement on the matter would be made later today.
Alan Ross, convener of the city council's public protection and community safety committee, said: "There will be no increase in the number of officers carrying firearms but the way officers are deployed may have to change and they could be called upon to attend more routine incidents."
Labour's Lochee councillor Michael Marra accused police chiefs of announcing a "fait accompli".
He said: "I have significant concerns about this development.
"It effectively means that Police Scotland will be taking armed officers who are sitting in cars waiting to be called to a major incident and putting them on the streets as a matter of course.
"An example given was that police carrying weapons could be asked to attend a road traffic incident.
"This would undoubtedly cause fear and alarm among members of the public and local residents"
"I'm also concerned that the matter was presented to councillors as a fait accompli and we're being given no opportunity to debate this and voice our concerns."
Fellow Labour councillor Brian Gordon, North East, said: "I have serious concerns that this is the thin end of the wedge and that we are going down the American route with armed police officers and everything that could potentially entail.
"I don't think Christmas would be the right time because members of the public might feel it is a move at this time of year when there might be a raised terrorist threat.
"However, later there could be a feeling that we don't want armed police appearing at routine incidents."
A Police Scotland spokesman said: "This issue will be on the agenda at a meeting of the Scottish Police Authority in Dundee on December 19 to be chaired by Susan Deacon."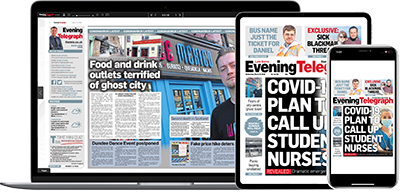 Help support quality local journalism … become a digital subscriber to the Evening Telegraph
For as little as £5.99 a month you can access all of our content, including Premium articles.
Subscribe