A vandal has caused thousands of pounds' worth of damage to a car in Arbroath.
The silver Seat Ibiza FR was parked on Bernard Crescent between midnight on Sunday and 8am on Monday when the incident took place.
Video posted online by the car's owner showed deep scratches down each side of the vehicle and across the bonnet. The rear lights and boot of the car were also damaged.
The vandal also scratched the roof during the incident.
Owner James Bates, 20, didn't notice the damage until he arrived at his place of work when his boss pointed it out to him.
Mr Bates said: "This car is my pride and joy and was very well kept. For someone to walk past and vandalise it is shocking."
Mr Bates has been quoted more than £5,000 by a garage to have the damage repaired as the whole of the car will need to be repainted.
Due to the high cost of repairing the damage, James says he will need to make a claim on his car insurance policy for it to be fixed.
He said: "As I'm a young driver who doesn't earn a lot of money I'm going to have to make a claim on my car insurance, which already has a very high excess.
"I'll now be installing security cameras around my home to ensure that something like this doesn't happen again."
Police Scotland says it is aware of the incident and are making inquires.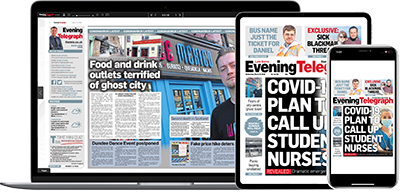 Help support quality local journalism … become a digital subscriber to the Evening Telegraph
Subscribe