Anti-fascist campaigners are to stage a rally in Dundee after neo-Nazis shared pictures of themselves posing beside city landmarks.
Members of the Scottish Nationalist Society also put up stickers around Dundee city centre and claim to be recruiting for new members.
Several members of the group – wearing scarves over their faces – posed for pictures shared on social media outside the McManus and the dragon statue on Dundee High Street.
Stand Up to Racism Tayside plans to stage a demonstration in the city in opposition to the group.
Organiser Jim Barlow said: "The group has links to the racist and fascist Scottish Defence League.
"They used two iconic pieces of Dundee architecture to have a photo shoot with their banner. Their choice of the McManus galleries steps was most insulting as it sits just beyond the statues of George Kinloch, Robert Burns and a plaque to the Dundee members of the International Brigade who fought in the Spanish Civil War against fascism in 1936-39.
"Stand Up To Racism members in Dundee are inviting all those who oppose the racists and fascists to join us for a photo shoot of our own."
To take part, meet at the Dundee Dragon at 1.30pm on Saturday.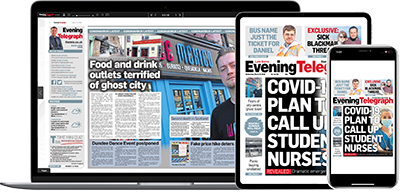 Help support quality local journalism … become a digital subscriber to the Evening Telegraph
For as little as £5.99 a month you can access all of our content, including Premium articles.
Subscribe